---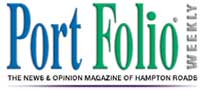 April 29, 2003
Playing Outside the Box
by Jim Newsom
Reinvention. That's how a performer keeps himself fresh and vibrant after a fifty-plus year career. And Sonny Rollins personifies reinvention.
"Each period is a completely separate part of a person's development," he told me recently from his home in Germantown, New York. "I'm not going to play the way I did when I was twenty. I've always considered myself a work in progress. I'm always trying to better myself and prove myself everyday. I haven't reached my peak yet."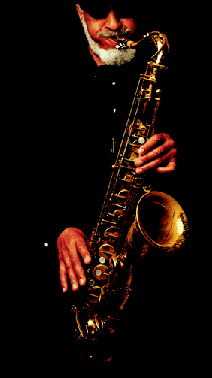 Maybe not, but the tenor saxophonist has scaled many peaks along the way since he first recorded in 1948. As he approaches his 73rd birthday later this year, Sonny Rollins shows no signs of slowing down or wrapping up his quest. On Friday at 8:00 pm, he'll perform in Christopher Newport University's intimate 400-seat Gaines Theatre as part of the Ella Fitzgerald Music Festival.
Noted for the "big sound" he gets out of his horn, the tenor titan has knit together an illustrious career as leader and sideman. He is a genuine living legend of jazz, an influence on every person who's picked up a saxophone over the last half-century.
Growing up in Harlem in the 1930s and '40s, his friends included future jazzmen Jackie McLean and Kenny Drew. Rollins began playing piano and alto sax at age eleven, switching to tenor when he was sixteen.
"Coleman Hawkins was my first idol," he remembers. "He was a great player and he also carried himself in a very dignified way. He was a model.
"Then I got into Lester Young. Fortunately, I had the opportunity to spend some time with him and get to know him. And of course, Charlie Parker---we were all disciples of Charlie Parker for a while. And I liked Johnny Hodges."
In the early '50s, Rollins worked with Miles Davis and Thelonious Monk, then joined the Clifford Brown-Max Roach Quintet in 1955. In 1956, he cut his quintessential album, Saxophone Colossus, leading to his selection as "New Star of the Tenor Saxophone" in the 1957 Down Beat critics' poll. For the next decade, he and John Coltrane were the kings of their instrument. The two recorded together on the classic Tenor Madness.
He also garnered a reputation for choosing unusual material, stuff that others didn't include in their jazz mix. Saxophone Colossus includes "St. Thomas," a calypso piece he wrote that's now a standard in the jazz repertoire. He recorded "cowboy music" on the album Way Out West, in 1957, and did a cool cover of Dolly Parton's "Here You Come Again" on 1981's No Problem.
"I've got a reputation for coming out with these weird songs and all," he laughs. "It comes naturally to me to deal with all kinds of different music. I'm not the only guy to do it. Louis Armstrong would be a guy doing a whole lot of different stuff. Jazz, to me, is such a universal music that it shouldn't really be put into a little box."
Through the years, Rollins has put out an incredible catalog of recordings. Nominated for a Grammy back in 1966 for his soundtrack to the movie Alfie, he won a jazz Grammy for his 2000 release, This is What I Do.
"It's nice to be recognized," he acknowledges. "But I'm consumed within myself. I'm consumed with trying to put out a better product."
The last couple of years have been very stressful. His wife and business partner Lucille suffered a stroke last year. And on September 11, 2001, he was close to ground zero when the planes struck the World Trade Center.
"I was right there when it happened," he says. "I have an apartment up on the fortieth floor about six blocks away. I heard this plane flying low, and I wondered why. I could tell it was a big plane by the motor and the sound of it. My view faces north, so I don't face the towers, but I heard this plane come in and then POW! So I went downstairs and the tower was on fire. And then the other plane came in, and there was panic in the street and women were screaming. It was a scene like out of a Godzilla movie.
"Nobody realized the magnitude of the toxic pollution that would come out of that explosion. I went upstairs and I take out my horn and I'm practicing, and my stomach felt a little funny so I stopped practicing. I didn't realize it but I was inhaling some of the most deadly stuff that was ever concocted. The next day, we got evacuated. It was unreal.
"When the first building came down," he continues, "I was standing in the street watching it. When it started coming down, I started to run a little bit too, because if it had come over, it would have gotten everybody. But it sort of imploded and went straight down into itself. But even when it came down on itself, the tremendous soot, debris, and the computers and the toxic elements...There's still a lot of toxicity down in that area."
So he and his wife have stayed in their upstate home in Germantown, 125 miles from the city, returning to the apartment only to retrieve what items were salvageable.
Friday night, Rollins will be accompanied by a quartet including Steve Jordan on drums, bassist Bob Cranshaw, long time trombone sidekick Clifton Anderson, and percussionist Kimati Dinizulu. As has often been the case in his career, he'll have no piano or guitar.
"I love that," he says. "It gives you a lot of freedom. I enjoy sometimes being able to handle it without chordal instruments."
He and his group will play material from throughout his career, and will feature some new tunes slated for his next disc. And he'll undoubtedly conjure up a little musical magic.
"Sometimes when you play, you can assume different appearances," he explains. "Music is sort of a magical thing. And there are some times that the music will make things appear differently."
This giant of the tenor saxophone has built a career on making things appear differently, reinventing songs with his improvisational excursions and reinventing himself musically while absorbing the changing sounds of a fast moving world. On Friday night, he'll share a little of that magic with us.
copyright © 2003 Port Folio Weekly. Used by Permission.
---