---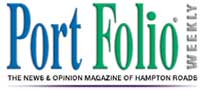 September 17, 2002
The Unsinkable Rhythm of Ruth Brown
by Jim Newsom
Ruth Brown began singing in public as a teenager, performing at U.S.O. gatherings in her hometown of Portsmouth during World War II. But she really launched her career in the clubs and theatres in Norfolk.
"I sang on Church Street, every place that had a stage," she told me in a recent interview for Port Folio Weekly from her residence in Las Vegas. "I did it by sneaking out at home to get on the ferryboat and get over to Norfolk."
When we spoke, the radio station at the University of Nevada, Las Vegas, had just played one hour of Ruth Brown's music. She was in a great mood, noting, "They said they hoped I was listening."
Ruth Brown, born Ruth Alston Weston in 1928, is among the first group of inductees into the Legends of Music Walk of Fame on Granby Street in downtown Norfolk. Her father was choir director at Emanuel A.M.E. Church in Portsmouth, where she grew up in the 600 block of Nelson Street.
Although she started singing in the junior choir at her daddy's church, Ruth Weston wanted to sing secular music. Thus began her surreptitious trips across the Elizabeth River.
"You know, club owners talk to each other," she said. "Percy Simon, the man who owned the Big Track on Church Street, spoke to a man who owned a little club in Petersburg named Moe Barney. Mr. Barney had some friends in Detroit. That's how I got my jobs---one person would say 'this girl is good.' And, of course, I was singing cheap."
It was in Detroit in 1947 that she got her first break. While singing at a club called the Frolic, bandleader Lucky Millinder stopped by with some of his musicians.
"I reckon Lucky or somebody had one or two drinks too many, and they decided I was a great singer and they wanted to hire me," she remembers. "So they hired me and put me on the bus with them. I rode with the bus for almost a month and never did get a chance to sing."
She got her first opportunity to sing with the band at a dance in Washington, DC. However, she angered the bandleader when she delivered a round of sodas to the boys in the band after her turn at the microphone, and Millinder unceremoniously fired her on the spot.
"I was left on the street in Washington, right in front of the Howard Theatre. I had no money."
Fortunately, fate would intervene in a most unexpected way.
"There was a young man named Tommy Moseley whom I had met in Newport News. He happened to come by, and I was crying. He took me from that corner to a club called the Crystal Caverns and introduced me to Blanche Calloway [Cab Calloway's sister, the club owner]. He told her I was a good singer, and she said, 'I don't have any money to pay her, but I will give her a place to stay.' She gave me a big glass bowl to put on the piano, so people could give me money if they wanted me to sing."
And it was there, at the Crystal Caverns, that Ruth Brown was "discovered."
"I was in there singing one night when Duke Ellington walked in," she recalls, "with a guy named Willis Conover and Sonny Till of the Orioles. I was singing Vaughan Monroe stuff. When I got through, Duke Ellington stood up and started the applause."
Conover, a well known radio disc jockey at the time, went to the pay phone and called his friend Ahmet Ertegun, who owned the fledgling Atlantic Records label.
"You got to hear this girl," he told Ertegun.
Ms. Brown was offered a contract with Atlantic, with a recording session set in New York to follow her run at the Crystal Caverns. Acting as manager, Ms. Calloway lined up a gig at the Apollo to coincide with the recording date. Unfortunately, the two women had an automobile accident outside of Chester, Pennsylvania, while driving to New York, and Ruth Brown found herself in the hospital for nine months.
"Atlantic signed me on my hospital bed," she said. "When I went into the studio, the first records I did I was walking on crutches."
On May 25, 1949, she recorded "So Long" at WOR in New York. By September, it was on the R&B Best Seller Chart, staying there for nine weeks.
In those days, Ruth Brown says she hadn't really found her own style yet.
"I was trying to do Billie Holiday, because she was the voice to be heard at that time," she recalls. "I thought the best thing you were supposed to do was find somebody and try to sound like them. I emulated her. I could do her better than she could do herself.
"When I got into New York and I worked in Café Society, she walked in the club one night and I was onstage with a gardenia and everything in my hair. Josh White told me there was this woman in the club and she was Billie Holiday."
But Ms. Holiday was not pleased with what she saw.
"She upset the table, stood up and walked away while I was onstage," Ms. Brown remembers. "I was insulted or hurt, I didn't know what. When I did get off, I went backstage and she was still there. She looked at me and said, 'Let me tell you something, and you better believe this: You got a great voice, and your star is out there. You can be wonderful, but you have got to know who you are.
"So she said, 'Every time that you go out on that stage and do what you did just now, they call my name. But nobody will ever know yours.'
"That's what she told me, and it turned me around. She turned me around to look to find who I was."
And what Ruth Brown was, was one of the all-time great singers of Rhythm and Blues. In fact, she was one of the inventors of that genre. Prior to her recordings, there were jazz singers and there were blues singers. But she was among the first for whom the label "rhythm and blues" was applied. Her string of hits was so long that, in the 1950s, Atlantic Records was known as "the house that Ruth built." She was known worldwide as "Miss Rhythm."
Her best known recording remains the classic, "Mama He Treats Your Daughter Mean," recorded on December 19, 1952. The single appeared in February '53, and was number one for five weeks. It remained so popular that Atlantic reissued it two years later, and it was a hit again.
Being an African American singing star in the 1950s was, she says, "in name only. I was like the queen of the South. I traveled all through the deep South, but I was not getting on the big TV shows."
By 1960, the fickleness of the entertainment world had caught up with Ms. Brown, and she spent the next decade and a half raising her children and working outside the music industry.
"I was doing housework, I was driving a school bus on Long Island, trying to keep both of my kids in school."
But talent and love of performing don't go away.
"I was working in a house one day," she says, "and somebody told me they were going to do a play off-Broadway called Stagger Lee. Since I was not really singing, I thought I'd try acting."
She appeared on television shows like The Jeffersons and Hello Larry, and was cast as Motormouth Maybelle in John Waters' satirical 1985 film, Hairspray. In 1989, she won a Tony Award for her Broadway performance in Black and Blue, and a Grammy for her Blues on Broadway disc. She hosted National Public Radio's "Bluestage," and produced a superb series of recordings through the '90s. She also undertook an ultimately successful nine-year legal battle with Atlantic Records for her share of royalties from her heyday, and formed the Rhythm and Blues Foundation with Bonnie Raitt to assist other artists who had not gotten their fair financial share.
Inducted into the Rock and Roll Hall of Fame in 1993, the recipient of a lifetime achievement award from the Blues Foundation in 1997, and the author of an award-winning autobiography, Ruth Brown has never forgotten her hometown. And it has not forgotten her. Several years ago, Portsmouth honored her with a Ruth Brown Day that stretched over an entire weekend, and the city now has a street named Ruth Brown Way.
"No matter what," she notes, "Portsmouth and Norfolk have always been real good to me. I was a star when I got home."
On Wednesday evening, September 25th, this star returns home to take a bow. Although a stroke three years ago has left her unable to perform at the ceremony, Ruth Brown will be at the Roper Center for the Performing Arts to see her name enshrined on the walk of fame, and to bask in the applause of the region that's proud to call her one of its own.
copyright © 2002 Port Folio Weekly. Used by Permission.
---