---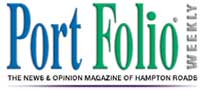 October 1, 2002
In the Sticks
by Jim Newsom
How's this for a deal? A live jazz performance and a hot-off-the-presses copy of the latest CD by one of the top locally based jazz groups for just $5.00.
That's what's being offered this Friday and Saturday, October 4th and 5th, as Blues Alley celebrates its first anniversary of presenting live jazz on Granby Street in Norfolk. The Russell Scarborough Quartet will unveil its new CD, First Annual, perform two lengthy sets, and give a copy of the disc to each audience member. It's the first in what Blues Alley chef/owner Calvert Johnston hopes will become an ongoing series of special evenings with the club's regular roster of artists.
Drummer Russell Scarborough and his group bring a high quality of music to the table. Their new recording spotlights the fluid chops of trumpeter Blake Wallace on eight original pieces written by guitarist Mike Durig and bassist David Hufstedler.
It's a classy collection that opens with Wallace gliding through the irresistibly memorable melody of Hufstedler's "Passing Through Time," then passes through several different jazz reference points. Durig's "Gypsy Queen," while borrowing its title from Gabor Szabo, borrows its feel from early '60s Blue Note sessions by the likes of Lee Morgan and Kenny Burrell. "Whose Gonna Know" is a bass-propelled slice of funk reminiscent of Freddie Hubbard's CTI days in the '70s.
"Marjorie" puts trumpet and guitar through a series of rhythmic and chordal twists and turns. "Grandma's Waltz" and "Lucky Lady" are beautiful ballads on which the group shows its tastefully quiet side, and the finale, "Some Day," gives guitarist Durig a chance to stretch out, sharing solo space with Wallace's muted Kind of Blue trumpet.
Leader Scarborough has been a fixture on the local music scene for thirty-plus years. He began playing drums as a youngster, "in 1964, like many people of our generation," he told me. "I saw The Beatles on Ed Sullivan, the next week they had the Dave Clark Five, and the drums looked like the easiest. So I chose drums."
He spent his teen years at Lake Taylor High School playing rock and roll, but never played in that school's band.
"I was kicked out of high school band in junior high," he remembers. "The guy hated me so much that he recommended that I never be allowed in another Norfolk City School band."
He graduated from rock and roll soon after graduating from Lake Taylor: "In 1970, I realized that the two-four rock beat was totally boring to me, and one of my buddies, Kenny Hatfield---one day he was playing Todd Rundgren, the next day he was playing Wes Montgomery. I went, 'Oh boy, this is it!'"
From then on, jazz was his first love. He discovered Miles Davis drummer Tony Williams and John Coltrane's stickman, Elvin Jones. He tuned into the fusion music of the time, and traced his way back through hard bop, be-bop and swing.
"In the '70s," he says proudly, "when everybody had long hair and was rockin', I had short hair and was learning to play jazz."
He spent a year playing with the Old Dominion University Jazz Ensemble where he learned to read music. He began leading his own groups, and playing in a variety of situations.
"For many years, I never turned down a gig. I played in cha-cha bands that played the Arthur Murray Dance Studio. I've played country music for years at a time 'cause that's a good gig around here. I played with Pat Curtis at the Omni for five years, playing Porter and Gershwin and all that stuff."
He's taught drum lessons ("for fourteen years 'til I got burned out") and has helped many area players choose their instruments, working in local music stores since 1978 ("That's how I pay for my house in the suburbs," he laughs).
But since that day in 1970, playing jazz has been his primary musical focus. And these days, he's very hopeful about the local jazz scene and its near-term potential.
"It sort of waxes and wanes," he notes. "I have months or years of activity, then it'll just dry up. Right now I'm feeling pretty positive about it."
Saturday night, Russell Scarborough and his Quartet will join with Blues Alley to add a new dimension to that scene---a live performance and a new CD for one low entertainment charge. It's a heckuva good deal.
copyright © 2002 Port Folio Weekly. Used by Permission.
---