---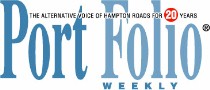 PortFolio Weekly
July 27, 2004
Ricky Skaggs: Pure Cream Bluegrass
by Jim Newsom
In 1985, Ricky Skaggs was voted the Country Music Association's Entertainer of the Year. He was at the top of the country music world for most of that decade, beginning with "Crying My Heart Out Over You" from his 1981 album, Waiting For the Sun to Shine, and continuing through "Lovin' Only Me" in 1989.
But long before he rode through the gears of country music's star-making machinery, he'd been a bluegrass virtuoso playing with Ralph Stanley's Clinch Mountain Boys as a teenager, and birthing the "newgrass" movement with J. D. Crowe and the New South and Boone Creek as a young man in the mid-'70s. When the fickle finger of country fame flipped to hat acts, big-haired babes and Garth wannabes in the '90s, Ricky Skaggs returned to his bluegrass roots. Friday night, he comes to Town Point Park with his award winning band, Kentucky Thunder, for Festevents' Bluegrass in the Park concert.
Although his 1997 album Bluegrass Rules was hailed by many as a return to those roots, he never really left them. Many of the chart-toppers from his heyday were actually old bluegrass tunes, and his recordings from that era were filled with instrumentation similar to that of his childhood heroes.
"If you go back and listen to 'Highway 40 Blues' or 'Crying My Heart Out Over You,'" he told me recently, "it was bluegrass kicked up. Really the only thing different is that I'm not traveling with a piano player, a steel player and a drummer now. It's the same music; it's just that I'm not traveling with two buses and a tractor-trailer."
He had called me while on the road in Roanoke a few days before his 50th birthday. ("I'm glad that I'm able to sit up and take nourishment," he laughed.) The conversation was filled with talk of faith, family and musical heroes. His college-age daughter Molly has been singing with him this summer, and she, Ricky and his wife Sharon were heading up to Dulles Airport to pick up 15-year old son Luke, who'd been on a two-week missionary trip to Northern Ireland.
I asked him how a Beatles-era baby boomer got hooked on bluegrass.
"The Beatles and Bill Monroe, Stanley Brothers, Rolling Stones---we had it all," he said. "It was just the greatest time for music ever. There was so much pure cream music, the best of the best. It wasn't homogenized, pasteurized and blended. It was real pure music, and you had your choice of what you wanted to listen to.
"My dad and mother was a really good barometer for me. I loved them so much, and my heart was so for the family and to honor them. They loved Bill Monroe and Flatt & Scruggs and the Stanley Brothers. That was their favorite bluegrass groups. I grew up listening to them because my folks loved 'em so much. And I got to where I dug it too.
"And then I had a teenage sister that was older than me. She introduced me to The Beatles. We went and saw 'em on the Ed Sullivan Show that night they came out. We couldn't get it on our TV station. We could get one channel and my grandpa could get one. He got CBS and we could get NBC. We went over to their house and watched The Beatles that night. She was sitting there in the floor just screaming and pulling her hair and hollerin' aren't they great, aren't they great! And I remember saying, 'Well they ain't as good as the Stanley Brothers.'
"Researching this stuff over the years that I've been doing it, I realized that The Beatles were inspired by the Everlys, the Everlys were inspired by the Louvins, the Louvins were inspired by the Stanley Brothers, the Stanley Brothers were inspired by the Monroe Brothers. So it really goes back to Bill and Charlie Monroe from 1936. You know, so much of that stuff really comes back to that brothers-style harmony. It inspired so many people for so many years."
Although he was only ten years old when The Beatles arrived, Ricky Skaggs was already a musical celebrity of sorts around his hometown of Cordell, Kentucky. When he was six, he went to see the Father of Bluegrass, Bill Monroe at the local high school. When the audience called out for Monroe to bring the local child prodigy onstage, Monroe invited him up, took off his own Gibson F-5 mandolin and, in a scene right out of a movie, strapped it on the youngster to play.
The next year he made his TV debut.
"I was on Flatt & Scruggs' show when I was seven…the little kid that came out and pulled on Lester Flatt's coattail and said, 'I wanna pick.' He starts laughing and says, 'Boys, this boy wants to pick. Let's let him pick.'"
Forty-three years later, he's still pickin'. With Monroe's death in 1996, and living legends Doc Watson and Earl Scruggs entering their 80s, Skaggs has devoted himself to perpetuating and expanding the traditions of his musical forebears.
"That's part of what I feel like my mission in life is," he told me, "to introduce a new generation of listeners to this music. I'm always conscious and mindful that there's a lot of people sitting out there listening to me that don't know where this music came from. So it's important to me to introduce them to Flatt & Scruggs, the Stanleys and Monroes, and show people where the music came from, talk about 'em, talk about the sacrifice that they made riding around in a station wagon, or six people deep in an old limousine riding around the country. They didn't have the buses; they didn't have the nice Interstate highways."
Since his return to the traditional bluegrass fold and the formation of his own record company, Ricky Skaggs has achieved success as great as, and perhaps more fulfilling than, his run atop the mainstream country charts twenty years ago. He's won five of his nine Grammys in the last six years, and he and Kentucky Thunder have been named Instrumental Group of the Year the last five years in a row by the International Bluegrass Music Association. He was inducted into the Kentucky Music Hall of Fame in February.
The band's last album, Live at the Charleston Music Hall, is an incredible display of musical chops, heartfelt singing and overall good times. Their next disc, Brand New Strings, is set for release in September and features a batch of new songs, including a couple of Skaggs compositions originally written for a Disney movie that didn't get made. There's also a tune called "First Corinthians 1:18," a melody that came to him while reading that particular Bible passage about the power of Christ crucified.
While drawing on the traditions of the past, Ricky Skaggs continues to look ahead. ("My grandpa used to tell me, 'Son, if you look over your shoulder, you'll plow a crooked row.'") Friday night, he and his band will show a park full of folks why they're considered the best in bluegrass.
"We try," he says humbly. "We want to play good."
copyright © 2004 Port Folio Weekly. Used by Permission.
---