---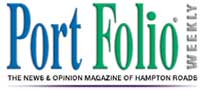 March 11, 2003
Cinderella Sings the Blues
by Jim Newsom
"It is like a fairy tale."
That's how jazz singer Rene Marie sums up the last few years of her life, a period of time during which she's gone from being a housewife and mother in Roanoke, Virginia, to international acclaim for her recordings and live performances. On Saturday night, March 15th, she'll be in Norfolk's Chrysler Hall with the Virginia Symphony and the Great American Music Ensemble performing a program of "Essentially Ellington."
Hers is a real-life Cinderella story, one that could serve as an inspiration to anyone who thinks they're "too old" to make a change or follow their dreams.
She got married at age 18, right after graduation from William Fleming High School in Roanoke, to a guy with whom she played in a band called The Majestics. When her first child, Michael, was born, she discovered it was hard to be a full time mother and a performing musician.
"I tried playing at wedding receptions when my son was a baby," she told me recently, "but it was just too much---carrying a baby around, diaper bags, and trying to sing."
So she stopped performing in 1975, at the age of 20. But her love of music didn't go away, and she continued to sing around the house. She also began studying the styles of the great singers she admired, and singing into a cassette recorder.
"I didn't have an end result in mind," she says. "I just wanted to see if I could do the same things that Sarah [Vaughan] does with her voice, or if I could scat like Ella. It was just out of curiosity."
She didn't perform again in public until 1996, spurred on by the very child for whom she'd given up her career two decades earlier. Home from college on a break, he called from a local restaurant and said, "Mom, you should start singing again. You gotta come hear this woman, she's terrible. I've heard you sing at home better than this."
"So," she remembers, "I went out to the restaurant and we sat at the table listening. I thought, 'Man, I can't believe she's getting paid for this.'"
After talking it over at home with her family, Marie and her piano-playing sister-in-law worked up six tunes, and went back to the restaurant a month later. She asked that same vocalist if she could sing a few songs during the band's break.
"She was very gracious. We did our six little tunes during their break and the response from the audience was really good. They stopped eating and were listening to us."
She then began to sit in on Wednesday nights with a friend's group at the local Holiday Inn. When a writer for the Roanoke Times wrote a column about her, more people started coming to check her out, leading her to form her own band.
But Marie's newly revived musical career stirred up trouble on the homefront.
"The more I sang, the more I came into myself," she says, "and the more I realized I was being oppressed as a human being in that relationship. It really was an issue of control. Gradually, I realized that this guy just wants to control me."
Her husband gave her an ultimatum on the eve of her first recording session in December, 1997.
"Things got violent, and after the violence was over, I packed my bag, made sure I put the music in the car first, and went to rehearsal the next day. And I never did go back."
She was 42 years old and had never lived on her own. Having worked part-time in First Union's customer service department in Roanoke, she accepted a job opportunity with the bank in Richmond. There she became involved with the Richmond Jazz Society, met local musicians, and began performing around the city.
Her debut CD, the self-produced Renaissance, was ready in September '98. She began sending discs to newspapers, radio stations and clubs, hoping to gain some attention for her music. In December of that year, she quit her bank job.
"I realized that if I wanted to do this thing full-time, I couldn't keep putting all my energy into making sure someone else's business, the bank, succeeded. All of my energy was going there, and when I'd go to gigs, they were getting the leftovers. I thought if I could just spend eight hours a day making phone calls, mailing stuff and working on the music like I do for this company, what would happen?"
With her family's support, she jumped into the music business full-time, and within three months was making enough to support herself. The combination of courage, persistence and luck paid off.
"One of the guys I sent it to, Joel Siegel of the Washington Times, called to tell me he was going to review it in the newspaper. Around the same time, I got a gig at Blues Alley on a Monday night. I thought, 'Who's gonna show up on a Monday?"
Her brother John and members of the Richmond Jazz Society had the answer---charter a bus from Richmond to Washington for the evening.
"They filled two buses and were carpooling," she remembers with a laugh. "The place was packed."
And it wasn't just RJS supporters at Georgetown's Blues Alley that night. Writer Siegel had told Rich McDonnell, president of the St. Louis-based MaxJazz record label, about Ms. Marie. McDonnell happened to be in town on Sunday, and decided to stay an extra night to hear her.
"During the break, he came up, told me who he was, and said, 'I'd like for you to sign with my label.' I thought, 'It can't possibly be that easy.' I thought he was just being a smooth talker, so I said, 'Talk to my manager.' But, he was legitimate and in November '99, I signed with MaxJazz."
Her first two MaxJazz recordings brought her wide critical acclaim. The second, Vertigo, hit the top spot on the Gavin jazz radio chart. She has a new live recording due out in April, featuring her sidemen of the last two years, pianist John Toomey, bassist Elias Bailey, and drummer Howard Curtis.
Saturday night, she'll be singing the music of Duke Ellington. She gets excited talking about it: "The conductor and arranger, Doug Richards, is unbelievable. He's got some fantastic arrangements. You are not going to believe what he can get out of that big band!"
And the fairy tale continues for Rene Marie. Now living in Atlanta ("I met my soul mate"), she is putting together a new touring band and preparing to hit the road in support of her new CD this spring.
"Taking risks, that's the lesson I've learned," she concludes. "When you're scared to make the next move because you don't know how it's going to turn out…Well, you never know how things are going to turn out, even if you play it safe."
copyright © 2003 Port Folio Weekly. Used by Permission.
---