---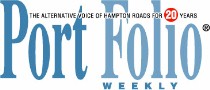 PortFolio Weekly
July 13, 2004
Jazz By Any Other Name
by Jim Newsom
For its twenty-second annual summer jazz presentation, Festevents has given the two-day affair a new name, a new admission pricing system and a new format. This weekend, Town Point Park hosts the Norfolk Jazz Festival, fka Jazz Norfolk, fka Town Point Jazz and Blues Festival, fka Town Point Jazz Festival.
Tickets for Friday night's show are $20.00, for Saturday's $25.00, and a weekend pass is available in advance for $34.00 from Festevents (www.festeventsva.org) or the Norfolk Scope box office. Despite the city of Norfolk's underwriting the festival to the tune of $117,000.00, these are among the highest ticket prices ever charged for a Fest Event.
The most controversial aspect of this year's festival, at least within the local jazz community, is its lineup. Unlike in years past, when the artist roster generally included a mix of the various subgenres of jazz, all the performers this year come from the contemporary pop-jazz category known as "smooth jazz."
Pieces of a Dream, who perform at 6:30 Friday evening, were among the original creators of this brand of music. I spoke with the band's soft-spoken mastermind James Lloyd recently, and asked him if he minded the smooth jazz label.
"No, I don't," he responded. "I know some people may trip off of it, but it doesn't bother me a bit. A lot of people credit us as, like, co-founders of the idiom. Back when we were doing this, there wasn't even a name for it, it was just music. There weren't any radio stations for it, there weren't any record companies geared towards it. And there weren't a whole lot of jazz venues and concerts or festivals."
"Back when" was 1981, the year Pieces of a Dream released their self-titled debut album. At that time, a few performers like Spyro Gyra and David Sanborn were following on the pathway laid down by Grover Washington, Jr., George Benson, The Crusaders and Creed Taylor's 1970s CTI record label in producing accessible, rhythmic and melodic music based more on contemporary pop, rock and soul structures than on the standard jazz repertoire. The players were very talented, and the compositional structures had not yet become formularized.
The guys in Pieces of a Dream were still teenagers when their first record came out. They'd been playing together---keyboardist Lloyd, drummer Curtis Harmon and bassist Cedric Napoleon---since 1976. Taking their name from saxophonist Stanley Turrentine's Pieces of Dreams album, the trio began to play around the Philadelphia area and quickly caught the attention of visiting jazz greats like Count Basie and Dizzy Gillespie. But it was fellow Philadelphian Grover Washington, Jr., who would give them their big break.
"We were the house band for a TV show called City Lights," James Lloyd remembers. "Each week they'd have a different musical guest, and sometimes we'd play with them.
"This time Grover was on and he decided to use us. He'd heard of the group. Then soon after that, we were performing at the Bijou and he was in the audience. We asked him to sit in with us, and he did. It was soon after that, that we were the first act he produced. I was sixteen. I was a senior in high school when the first album came out."
Washington produced their first three albums, and the band never looked back. Along the way Napoleon dropped out, but Lloyd and Harmon currently lead a six-piece band that is a popular live act whose recordings are consistently listenable and well produced. Unlike the jazz recordings of yore, when the musicians would show up at a studio and just blow, Pieces of a Dream's albums are carefully constructed studio creations. As on their latest Heads Up release, No Assembly Required, Lloyd produces most of the tracks, often playing all or most of the instruments himself, including programmed drums.
"Yeh, that just kind of happens," he says. "I have my home studio here and I'll start working on stuff and the next thing you know, the song's done. I hear all the parts in my head and it's very easy for me to just go on and lay them down. So I just sort of amass all these songs. If it ain't broke, don't fix it."
I ask him if music qualifies as jazz when it has programmed drum tracks.
"Why not," he replies. "I know everyone has their opinion, some people are more in-depth with their convictions. But, why really trip off of that? What's the need? Music is music. To me, jazz is basically an expressive form of music that's based mostly on improvisation and freedom from total structure. Of course, any tune has to have some sort of structure.
"Now people that hear contemporary jazz and talk about, well, that's not real jazz…Contemporary is what? Of today. So, say you had the pre-bebop era. It was jazz then. But then bebop came about, and that was considered contemporary, that was the new thing. So is it still jazz because it's different, or is it not jazz because it's different? No, it's still jazz. It's another form of jazz.
"You had your big band, your swing, your bebop, your hard bop, Horace Silver, all these things at one point in time were contemporary. They were the contemporary jazz or the smooth jazz of that time. So there were some that took to it. And some like, this is not what I've heard before, this is not jazz. So that's been going on, I guess, since the dawn of music, back to caveman days.
"We've performed with people from Al Jarreau to Earth Wind & Fire to Heat Wave to Count Basie and Dizzy Gillespie. To me, it's all music. As long as it's coming from the heart, then I like it, whether it's jazz or other forms of music. You know, jazz isn't the only form of music that's performed from the heart."
- - - - -

Norfolk Jazz Festival at Town Point Park
(rain site is Norfolk Scope):

Friday, July 16
5:00 - Tyrone Marquis Smith
6:30 - Pieces of a Dream
9:00 - Boney James


Saturday, July 17
3:00 - The Good Life
4:30 - Angela Bofill
6:00 - Kim Waters
7:30 - Chuck Mangione
9:30 - Keiko Matsui

copyright © 2004 Port Folio Weekly. Used by Permission.
---