---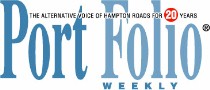 PortFolio Weekly
June 22, 2004
The Times of Peter, Paul & Mary
by Jim Newsom
When Peter, Paul & Mary were here last summer to play at the nTelos Pavilion, Noel Paul Stookey told me the group was in the midst of its "most publicly productive year" since the '60s. The fruits of that activity are being harvested this year with the release of two new recordings and a boxed set.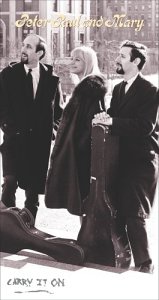 Carry It On, the boxed set, is a magnificent collection of music from throughout PP&M's lengthy career. The first of four audio discs begins at the beginning, with the opening track from the trio's self-titled debut album released in the spring of 1962, Stookey's "Early in the Morning." There are eight songs from that epochal release, followed by six each from their two '63 releases, (Moving) and In the Wind. And that's just Disc 1.
All told, there are eighty six samplings of the best of the group's recorded output, plus a hidden previously-unreleased track at the beginning of each disc. These "hidden" tracks give us the opportunity to hear Peter Yarrow at the 1958 Swarthmore Folk Festival; Noel Paul Stookey in a 1956 home recording with his rock and roll band, The Corsairs, complete with honkin' saxophone; Mary Travers singing "Single Girl" in Stookey's apartment; the group perfecting its patented harmonies before they'd been heard in public. By placing these rare gems at the beginning of the discs, however, they are much more difficult to access than if they were at the end, as is usually the case with such unlisted tracks. But they're a treat to hear nonetheless.
This set is literally the Great American Songbook of folk music. The campfire songs you useta sing are all here---"If I Had a Hammer," "500 Miles," "Where Have All the Flowers Gone," "This Land is Your Land." The Dylan tunes are here---"Blowin' in the Wind," "Don't Think Twice," "The Times They Are a-Changin," "Too Much of Nothing." There's "Puff," of course, "I Dig Rock and Roll Music," "Day is Done," and the original recording of Stookey's "Wedding Song (There is Love)," Yarrow's "Weave Me the Sunshine" and the ultimate baseball story-song, "Right Field."
Carry It On is a multimedia extravaganza. In addition to the four audio CDs, the set contains a DVD with eight performances, including the trio singing "If I Had a Hammer" to a crowd of 250,000 during the 1963 Civil Rights March on Washington, just before Martin Luther King gave his "I have a dream" speech. There's a clip of them performing in the round on the Smothers Brothers TV show in '69 and a performance of "Leaving on a Jet Plane" with that song's composer, the then-little known John Denver. The video footage adds a delightful dimension to this set and adds to its importance as a historical document. Were they---or we---ever really that young and fresh-faced?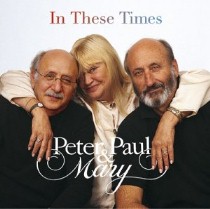 The boxed set ends with two cuts from PP&M's simultaneously released CD of new material, In These Times. Surprisingly, it opens with a "Union Medley" of five union tunes, not the kind of songs you're likely to hear in these times when union membership is at an all-time low. As the album progresses, it's clear the trio is out to reestablish a voice for social justice in these times when such a voice in music is definitely not "in."
"Don't Laugh at Me," a country hit for Mark Wills a few years back, is a perfect vehicle for Peter, Paul & Mary, while Stookey's sublime take on folk singer Tim Bays' "It's Magic" is a hit in search of a radio format on which to be heard. "All God's Critters" is the latest in a long line of children's songs to be added to the trio's repertoire, while "Some Walls" is one of those folkie tunes you can't get out of your head after hearing it just once. The album closes out in an appropriate vein with Pete Seeger's "Oh, Had I a Golden Thread," or maybe it doesn't…there's a hidden live track 30 seconds after you think the disc is over. And, it's "Mi Caballo Blanco," which is listed as a "previously unissued tour reference recording" on the boxed set.
The new CD returns Peter, Paul & Mary to their all-acoustic roots, accompanied only by long-time sidemen Dick Kniss on bass and Paul Prestopino on every kind of stringed instrument. It's a reminder of just how great these three sound when they blend their voices together, and a powerful musical statement of their continued vitality and validity "in these times."
The last track on disc 1 of the boxed set is called "PaulTalk" from the 1964 In Concert album. Longtime PP&M fans have always enjoyed Stookey's solo segment during live performances, in which he returns to his days as a standup comic, telling stories drawn from his life experiences that inevitably have the audience doubled over with laughter. Through the years, folks have asked him when he was going to put out a comedy album. The answer, my friends, is now.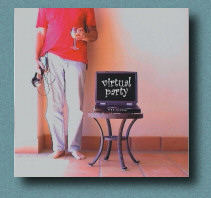 With Virtual Party, Noel Paul Stookey cooks up his own variety show, sprinkling four new songs amidst a batch of hilarious tales recorded in live performance over the last twenty years. Topics that Stookey looks at with his slightly off-kilter sense of humor range from the olfactory attributes of the asparagus, driving a U-Haul truck and making small talk at parties, to imaginary golf and "The Crumbling Mind Syndrome." The gentleness of his humor reminds me of Bill Cosby's classic records of the '60s with its family-friendly lack of profanity and its intelligence nestled comfortably amidst the laughs.
The new musical material is not what you'd expect from a folk icon---the reggae rhythm of "Virtual Party," the straightahead rock of "Digital Frame of Mind," the Pink Floyd-like "Parallel Universe" and the country rock setting for "Let's Go to the Stars." But Noel Paul Stookey has never been your standard issue folkie. In fact, he's quite the internet savvy modern man. The title of this CD comes from a website he concocted for netsurfers from all over the world to get together, interact, and move around in a virtual cybersetting (www.virtualparty.com), and he's fascinated by, and attuned to, the latest in technology.
Taken together, these three releases showcase the musical significance of Peter, Paul & Mary spanning more than four decades. From their earliest days as popstars right up through "these times," where they are elder spokespersons for folk music and role models for artists as mature entertainers and advocates for a better world, Peter Yarrow, Noel Paul Stookey and Mary Travers have kept the faith they originally embodied. Theirs is a lasting legacy.
copyright © 2004 Port Folio Weekly. Used by Permission.
---