It's pledge week on PBS, but this particular membership drive will take place without a program from pledge perennials Peter, Paul & Mary. The week in Hampton Roads will not be without these folk favorites, though, as the trio comes in Thursday night for a concert at the NTelos Pavilion at Harbor Center on the Portsmouth waterfront.
And, we can expect WHRO's December drive to feature a brand new PP&M program produced especially for Public TV. According to Noel Paul Stookey, the group recently completed an as-yet-unnamed new special due out this fall.
"This has got to be the most publicly productive year in Peter, Paul & Mary's history in the last 20 or 30 years," Stookey told me last month from his home in Maine. "We have a boxed set from Warner/Rhino called, fittingly, The Boxed Set, which will have about a dozen performances ranging from the White House to the Newport Folk Festival that have never been heard before. It will also have a DVD ranging from the march on Washington, performance footage and two or three tracks from a new album that will be released simultaneously with it, the first new album we've done in about ten years, called Now More Than Ever.
"The PBS show is also a collection of all of those things plus new interviews and footage shot just three weeks ago."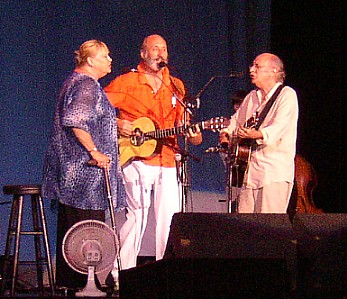 Stookey and his musical partners Peter Yarrow and Mary Travers first burst onto the music scene at the height of the pre-Beatles "folk boom" in 1962 with their self-titled debut album. The LP quickly shot to the top of the charts and yielded a Top Ten hit single with Pete Seeger and Lee Hayes' "If I Had a Hammer." Their second album early the next year, Moving, included Yarrow's irresistible "Puff (The Magic Dragon)," now a children's classic, and the group's standing as the number one act in folk music was cemented.
Later in '63, their third album In the Wind served up two more monster hits in "Blowin' in the Wind" and "Don't Think Twice, It's All Right," introducing the author of those songs, the young Bob Dylan, to the rest of the world.
The threesome continued to produce best selling records throughout the '60s, holding on to their ideals and musical vision even as the British Invasion, psychedelia, garage rock and Memphis & Motown soul dominated airplay and record sales. In fact, two of their biggest hits came in the latter part of the decade, Stookey's "I Dig Rock and Roll Music" in '67 and John Denver's "Leaving on a Jet Plane" in '69.
I asked Noel Paul Stookey what it was like to be at the top of the pop music world at the age of 25.
"Very heady, obviously," he recalls, "and a lot less to do with the music than with your personal life. The exhilaration was reflected in my personal life. I think Peter and Mary held it together better. I did a very bad job with mine. I was just totally impressed with my press clippings."
In fact he realized that he needed to reprioritize his life, and the group went on sabbatical in 1970, taking a "vacation" until reuniting in 1978. One of the forces behind this reprioritization was Stookey's turn to born-again Christianity after an experience with some "Jesus freaks" in 1968.
"It was mostly because, in the looking for anything, I rediscovered the something that was important to my life. And that was a relationship with my God. It was like the prodigal son coming home. It's really impacted every piece of music that I've written since then. There are a lot of choices that one makes that are below the radar in one's life, but they're now all guided from the same central belief system."
Each of the singers produced fine solo albums during the '70s, but none captured the public's attention like their group recordings had. The times were most certainly a-changin' and radio decided that being earnest was not cool anymore.
"It's very geeky to wear your heart on your sleeve," Stookey notes.
In 1986, PP&M produced their first PBS special in celebration of their 25th anniversary together, and the response was strong, reinvigorating their career while continuing their tradition of aiding causes and organizations they cared about. But their music had never gone away.
In fact, the trio's series of albums in the '60s defined the standard tunes of the folk music repertoire in much the same way that Frank Sinatra's albums of the '50s established what songs would be classified as jazz standards. There's no one who's ever picked up an acoustic guitar or sung around a campfire who doesn't know those tunes---"500 Miles," "If I Had a Hammer," "Where Have All the Flowers Gone." The first album even included "Sorrow," which reappeared nearly 40 years later in an upbeat bluegrass version as "Man of Constant Sorrow" in the film, O Brother, Where Art Thou.
Noel Paul Stookey has left his mark as a songwriter, his two best known compositions being quite different from one another. He wrote "Wedding Song (There is Love)," the ultimate marriage ceremony song, as a blessing for his musical partner Peter Yarrow's wedding. And then there's "I Dig Rock and Roll Music," a good natured poke at the '60s pop scene that was misinterpreted by many.
"To this day, I regret settling on the lyric, 'and when The Beatles tell you, they've got the word love to sell you,'" he confesses. "I should have found some other way to say that, because I never believed that The Beatles were in it for the money. It was never meant as a slam so much as, like at a roast, where you do an imitation of the other person.
"I think it took a lot of people by surprise. And that was probably one of the primary reasons we did it. It was like saying, 'I know that you think we are serious. But we want you to know that life is broader than that.'"
It's a song that is still a constant of oldies radio, and one that pops up in the most surprising contexts.
"The funniest place I ever heard it was at Ringling Brothers and Barnum and Bailey," he laughs. "It was the song for the elephants. To see it there and to see elephants dancing to it was very funny. The circus band was playing it. It was great!"
So, what can we expect to hear Thursday night?
"I would say 50% of the show you'll recognize," Stookey says, "25% of the show you'll remember that you're supposed to recognize----from the last 20 years; and then 25% will be refreshingly new. Folk music is not a train stalled in a station, this thing keeps moving."