---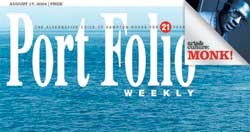 PortFolio Weekly
August 17, 2004
Thelonious the Onliest and His Disciples
by Jim Newsom
Thelonious Sphere Monk was one of those rare artists who come along once or twice a century, a creative musical force who hears things differently from everyone else yet somehow manages to find a way to communicate his unique ideas to mere earthlings.
Born in 1917 in Rocky Mount, NC, he moved with his family to New York City as a preschooler. There he began to explore music around the age of five and was playing in church and for rent parties as a teenager. After working as the pianist for a traveling evangelist/faith healer in the mid 1930s, he returned to the City where he began leading his own small groups until he joined the house band at Minton's Playhouse in 1941. While there, he participated in the after-hours jam sessions that resulted in the bebop revolution that ultimately changed the face and shape of jazz.
Thelonious Monk never sounded like anyone else, and many listeners in the 1940s thought he was an inferior pianist because of the empty spaces he left between notes and the unusual chords he chose. His compositions came across as almost childlike in their whimsical melodic structures, and the unexpected, semi-dissonances and angular rhythms he employed caught the uninitiated off-guard. His extreme introversion and his penchant for funny hats and silly dancing led many to think he was some kind of a nut.
He cut his first sessions as a leader for Blue Note in 1947, but his music was originally dismissed by critics and ignored by the record buying public. His fortunes began to change in 1955, though, when he began recording for Riverside. Within a couple of years, both critics and jazz fans caught up with what he'd been doing all along, and the "nut" was suddenly hailed as a quirky, idiosyncratic "genius." In fact, his music hadn't changed at all.
In 1962, Monk signed with Columbia records and on February 28, 1964, he became the fourth jazz musician to make the cover of Time magazine (after Louis Armstrong in 1949, Dave Brubeck in 1954 and Duke Ellington in 1956). Over the course of the next few years, he recorded a series of albums with his regular working quartet featuring Charlie Rouse on tenor saxophone. He recorded and rerecorded his original material and put his eccentric stamp on parts of the standard repertoire. He retired in 1973, suffering from mental illness, and spent most of the rest of his life in seclusion until his death in 1982.
Over the course of the last twenty years, Monk's music has itself become a staple of the jazz canon. As recording technology has advanced, his records have been issued and reissued on CD. Four of his best from the '60s were released in expanded form last year by Columbia's Legacy division:
Criss-Cross, recorded in late '62 and early '63 features classic Monk compositions "Hackensack," "Rhythm-a-Ning," "Think of One" and "Crepuscule With Nellie," as well as a stride piano-led trio version of "Tea For Two." It's Monk's Time, from early 1964, starts off with a humorous "what's-that- chord?" reading of "Lulu's Back in Town," includes a solo stroll through the Gershwins' "Nice Work If You Can Get It," and gathers together lesser known originals "Stuffy Turkey," "Brake's Sake" and "Shuffle Boil" with Monk's traditional set closer, "Epistrophy."
Solo Monk is just that, 21 unaccompanied piano solos laid down between October '64 and March '65, two-thirds of which are covers of other composers' tunes, like "Dinah," "These Foolish Things" and "Darn That Dream." The playing here is masterful, revealing the introspective beauty that is less apparent in the pianist's work with his band. If anyone questions Monk's talent as a pure player, this will quickly dispel any doubts.
I remember Underground being promoted to the youthful record buyers of 1968, with its eye-catching cover art and its title geared at the counterculture spirit then reaching its peak. It turned out to be the final album featuring Monk's quartet, and includes some quintessential playing from the piano man, saxophonist Rouse, bassist Larry Gales and drummer Ben Riley. It also included four new original compositions, unusual for a man who'd been recycling his own repertoire for years. The CD reissue contains the full-length takes of each number, most of which had been truncated for the original LP release, and there's a magnificent Jon Hendricks' vocal on the classic "In Walked Bud."
Since his death, Monk's cache among jazz musicians and listeners young and old has grown. His influence ranges far and wide, and a listing of tribute albums would fill up several columns in this magazine. Two recent ones are worth noting.
Yes We Didn't is perhaps the strangest Monk tribute yet. Calling themselves Thelonious Moog, Steve Million and Joe "Guido" Welsh got together in Welsh's Nashville home studio and began jamming on his vintage synthesizers, not certain of what direction they were going in. Ultimately bringing in a bunch of pals to assist in the rhythm section and guitarist Richard Bennett to flesh out the melodic end, the duo concocted a whacky "Switched-On Monk" that takes Walter/Wendy Carlos' Switched-On Bach from the late '60s to the extreme edge of both taste and musicality. Cross pollinating The Outer Limits, Daffy Duck, "Telstar," Funkadelic, the carnival midway and Alvino Rey, the result is hilariously entertaining and, believe it or not, musically valid. You have to hear it.
Those familiar with the Thelonious Monk songbook will especially appreciate what the T. Moog boys do with this material. If you can't find it in your favorite record store, go to www.theloniousmoog.com for ordering information.
Pianist John Stetch takes the opposite approach on Exponentially Monk, just out on the Canadian Justin Time label. All alone at the piano, Stetch uses Monk's music as a launching pad for his own improvisational excursions, finding fresh nuance in his interpretations of some of Monk's best known compositions. Stetch is a boundary stretcher himself, playing not just on the white and black keys, but also inside the piano---strumming, plucking, hammering---and muting the strings to create a totally different sound.
His playing reminds me of Bruce Hornsby's extended explorations and Keith Jarrett's live solo recordings at times, and he conjures up a bluegrass feeling here, a bit of Bill Evans there, some James P. Johnson stride, Flight of the Bumblebee and Olivier Messiaen. I'm impressed with the way Stetch takes these tunes that I've heard so many times and makes them his own, creating an individual style that I look forward to hearing more of.
copyright © 2004 Port Folio Weekly. Used by Permission.
---