---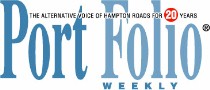 PortFolio Weekly
September 9, 2003
A Fresh Crop of Local Legends Gets Its Stars
by Jim Newsom
Last September, the city of Norfolk opened its Legends of Music Walk of Fame with a ceremony and concert, unveiling bronze stars embedded in the Granby Street sidewalk that honored eight local natives who made it big in music. The free show at the Roper Center for the Performing Arts was one of the best concerts of the year, featuring performances by inductees Tommy Newsom, Gary U. S. Bonds and Bruce Hornsby, as well as tributes to the other honorees---Ella Fitzgerald, Pearl Bailey, Ruth Brown, Charlie Byrd and Dorothy Maynor.
On Tuesday, September 23rd, the second class of legends will be honored at the Roper, and their stars unveiled. Four performers and one producer make up this year's class. Virginia Beach-based beach music pioneers Bill Deal and the Rhondels join four Norfolkians---pop and jazz singer Keely Smith, rockabilly original Gene Vincent, gospel superstars The Golden Gate Quartet and producer/entrepreneur Frank Guida.
Bill Deal and the Rhondels epitomized the sound of beach music, a musical genre popular along the Atlantic seaboard from Virginia Beach down through the Carolinas. Formed in Virginia Beach in 1961 by Portsmouth-born keyboardist Deal and his friend, drummer and singer Ammon Tharp, the Rhondels spent the better part of the '60s developing a distinctive style, mixing the rhythmic pulse of Jamaican ska music with a powerful horn-driven frontline and soulful vocals. The band peaked in 1969 with three national Top-40 hits: "May I" (#39), "I've Been Hurt" (#35) and "What Kind of Fool Do You Think I Am" (#23).
Deal and Tharp have continued to perform through the ensuing decades, both together and apart, moving the feet of shaggers and beach music lovers with their timelessly happy music.
Norfolk-born Keely Smith was still a teenager when bandleader Louis Prima came to town in 1948 needing a new female singer. The two became musical, and later marital, partners, finding their greatest success as one of Las Vegas' most popular acts in the '50s. The unlikely combination of Prima's wild stage antics and Smith's calm and cool vocal style took them to great popularity on records, movies and TV, even playing at President John F. Kennedy's inaugural ball in 1961.
Ms. Smith, whose birth name was Dorothy Jacqueline Keely, also had a concurrent solo recording career beginning in the '50s that placed her among the most popular non-rock and roll singers of the day. She has continued to record and perform, sounding as strong as ever in the 21st century on new Concord Jazz releases, Swing Swing Swing in 2000, Keely Sings Sinatra in 2001 and Keely Swings Basie Style with Strings released last year.
Gene Vincent, born Vincent Eugene Craddock in Norfolk in 1935, recorded a demo of the seminal rock 'n' roll song "Be-Bop-a-Lula" in a studio at WCMS radio on April 9, 1956. A month later he and his band, the Blue Caps, were in Nashville re-recording that and three other tunes. By the end of June, "Be-Bop-a-Lula" was a national hit, rising to #7 on the Billboard Hot 100. Vincent would have two more Top 40 hits in the next year, "Lotta Lovin'" and "Dance to the Bop," but perhaps his most important place in rock history is the influence he had on young British rockers after his 1959 tour there. Some Liverpool lads named John, Paul and George were particularly smitten with Vincent's sound and black leather-clad look.
Although Vincent remained popular in Europe in the early '60s, his life was a tragic one. He died in 1971 at the age of 36 from a bleeding ulcer.
The Golden Gate Quartet began at A. C. "Eddie" Griffin's barbershop in Norfolk's Berkeley section in the 1930s. A tenor singer himself, Griffin and bass singing friend, Robert "Peg" Ford, joined with two singers from the Booker T. Washington High School glee club, tenor Henry Owens and baritone Willie Johnson, to sing gospel music in the then-nascent "jubilee" style. The group became regionally popular in the mid-'30s and, after founders Griffin and Ford were replaced by Orlandus Wilson and William Langford, was signed by RCA/Bluebird records in 1937. Within a year, the group had achieved national renown on the strength of their first 78-rpm release, "Golden Gate Gospel Train."
The quartet performed at John Hammond's historic "Spirituals to Swing" concert in Carnegie Hall in 1938 and was the first African-American act to appear in Washington's Constitution Hall as part of President Franklin D. Roosevelt's 1941 inaugural gala. The group's popularity continued through the '40s and they appeared in several films during that decade. Since 1955, the Golden Gate Quartet name and signature style has been kept alive in Europe.
Bronx-born Frank Guida came to Norfolk in the 1950s, opening Frankie's Birdland record store on Church Street. Soaking up the gospel, R&B and streetcorner sounds he heard in the neighborhood, Guida set up a recording studio and brought in some local players to create what would be known around the world as "the Norfolk sound." That sound, combining the soulful spirit of the street with calypso influences Guida had picked up while stationed in the West Indies in World War II, reached its peak of popularity with Gary US Bonds' "New Orleans" in 1960 and "Quarter to Three" in 1961, and Jimmy Soul's "If You Wanna Be Happy," which went to #1in the nation in 1963.
Selling the Church Street record shop in 1967, Guida opened Frankie's Got It on Granby Street, where he held forth into the '90s, an icon of the music biz. Echoes of the "Norfolk Sound" can be heard from Dion's "Runaround Sue" to Bruce Springsteen's E-Street Band.
The Roper concert will feature a performance by Bill Deal and Ammon Tharp reunited with bandmembers from the Rhondels' late-'60s heyday. Keely Smith will also be on hand to sing a couple of her best known songs. The show will include musical tributes to Gene Vincent, Frank Guida and the Golden Gate Quartet.
Free tickets are available on a first-come, first-served basis at the Virginia Arts Festival ticket desk in the middle of the MacArthur Center in downtown Norfolk. The concert starts at 7:30 pm on Tuesday, the 23rd, with the sidewalk star unveiling scheduled for 4:00 that afternoon in front of the theater.
copyright © 2003 Jim Newsom. All Rights Reserved.
---