---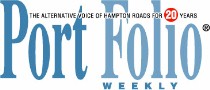 PortFolio Weekly
October 21, 2003
The Many Sides of a One-name Man
by Jim Newsom
One-word performer names are not unusual in the world of pop music. Madonna, Cher and Sting come immediately to mind. But in contemporary folk music, most performers have regular names. It adds to their authenticity. So I had to ask Johnsmith (one word, not a misprint) about his performing name.
"It's really John Smith, two words," he told me from his home in Trempealeau, Wisconsin. "With a name that generic, I've been joked and teased a lot. When I made my first solo record, the friend who did the graphics showed me the mockup and it was all one word. I went, 'what's that?' We did it and it was weird, it really stuck. I think in this day and age, everybody's an e-mail, their website addresses, everybody's one long word. And I guess with a name like Johnsmith, it sticks out more.
"Stores don't know whether to list it under 'J' or 'S,'" he laughs. "It's usually under 'J.'"
52-year old Johnsmith is an award winning songwriter, folk singer and guitarist. He'll be in town Saturday night at the Virginia Beach Central Library for a solo concert presented by the Tidewater Friends of Folk Music. He brings with him a Midwestern sensibility and poetic lyrics born out of his own life experiences.
"I grew up in a real little town in Iowa, big family, 10 brothers and sisters," he says. "In high school back in the '60s, I sang in a rhythm and blues band. We did Motown, Rolling Stones, all kinds of rhythm and blues stuff, the Byrds. Then I went off to college in southern California, I got far away from Iowa where I grew up. Within the first couple of years of college, I got my first guitar. And I just hung around the songwriter circles and learned how to play and write songs from some great folks in that area."
But he found himself feeling out of place in the burgeoning music scene erupting around Los Angeles and its environs.
"The L. A. scene just didn't feel good for me," he recalls. "I went back to the Midwest and lived back in Iowa for a little while and really started writing songs. But there's not much of a scene, obviously, in Iowa. So I kind of did a compromise and lived in Colorado, which was kind of a hip community and there were several places to play.
"I was in three different duos and we played a lot of college market stuff, like universities and campus coffeehouses all over the country. That paid my bills for years. But it wasn't doing a whole lot for my soul. I was playing mostly original stuff, but it wasn't like moving your career in any direction."
He did, however, meet his wife while living in Colorado.
"We both worked at the Celestial Seasonings tea company. We really liked Colorado, but some friends of ours had bought a farm in Wisconsin. And I'm really a Midwest boy. So when we came to visit these people, we just fell in love with the area. A job opened up working as a naturalist at the state park in Trempealeau. I got the job, so we came.
"It started out as a fulltime job and I was hardly playing music. Then---this is when Reagan was in office---it became a nine-month job, then it became a six-month job. So I had to play music to support us in the other months. And then I was getting real established in doing my music. We were hooked; we'd bought a house and were raising our three kids.
"The nicest thing about music is, I haven't made a mint, but I've been able to buy a house and raise our kids and make a modest living, and yet do something I like. I really feel blessed that way. By the mid-'80s, I was pretty much full-time music."
And he began looking to expand his career beyond the duo situations he'd been playing in for years:
"At the end of the '80s, I got into the singer-songwriter thing a little bit more. I've always been a Dylan fan; Joni Mitchell, James Taylor. So I started going to folk festivals and browsing around that whole folk community. The first one I really did was Kerrville, a very prestigious singer-songwriter festival. When I started doing that I was still playing in another duo, but every time I'd do these festivals I would go off by myself to see how my songwriting fit in.
"Within a few years, I decided that me writing my own songs and going out there by myself was the direction I needed to go. I was really scared, though. It's a lonely kind of thing out there by yourself, [but] it's a very powerful thing. There's just something about one guy up there with his guitar telling his little slant. If somebody's up there just genuinely being themselves, it speaks to all of us. And that is the thing I really like about the whole folk thing."
He released his first solo disc, Hole in the Clouds, in 1998, and has subsequently issued two more excellent recordings, To the Four Directions and Traveler. All were self-produced and issued on his own label. He plays all over the country and recently returned from his third tour of Ireland. His songwriting continues to grow and mature.
"I do think there's something to be said for a lot of songwriters, the older they get, the richer their stuff gets," he says. "It's like the Holy Grail. In the end what is the big thing that he's been searching for the whole time? The key is that it's always about giving. So I've come to a place where when I approach my music, good or bad, what I have is some kind of gift. And if I have something to give and I'm out there giving it, I come from a less needy, desperate kind of place.
"Since I've come from that kind of place, it's just opened up my writing, my performing, and my anxiety about the whole thing. I'm pretty much at peace."
Tickets for Johnsmith's concert Saturday night at 7:30 pm at the Virginia Beach Central Library can be reserved by calling 626-FOLK (3655).
copyright © 2003 Port Folio Weekly. Used by Permission.
---