---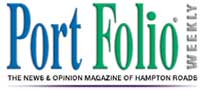 December 3, 2002
Toomey Plays the Tunes
by Jim Newsom
John Toomey is a man of many talents: jazz pianist, composer, arranger, university professor, local bandleader, touring musician, acoustic accompanist, electronic music specialist, jingle writer. On Friday, he will turn himself into a jukebox, playing an all-request program with his trio as part of the Jazz on Granby series at the Roper Performing Arts Center.
The 45-year old Toomey started playing music in the seventh grade, when he was able to pick out tunes by ear on the family's new piano in their home in Goshen, New York.
"My parents gave me a Christmas card with Santa Claus sitting at a piano, telling me 'you're getting piano lessons,'" he told me over lunch recently.
Toomey, whom Hampton Roads music devotees consider the quintessential jazzman, was inspired by all types of music as a teenager.
"I liked people like Carole King, James Taylor, Carly Simon," he recalls. "Some groups like Wishbone Ash, Blood, Sweat & Tears, Chicago---anybody that had a little improvisatory thing going on, I was kind of intrigued by.
"I played in bands in high school that played some Yes, stuff like that, bands that were playing more challenging music. I didn't really start playing jazz until I got in college."
He attended Crane School of Music in Potsdam, New York, and auditioned for the school's jazz ensemble his second semester there. He surprised himself by being chosen for the band, beating out an already ensconced pianist for the keyboard chair. It was the first time he'd ever played with a rhythm section of acoustic bass and drums.
"The director said, 'I can hear that you really feel the rhythm," he remembers. "He took me under his wing, and I was really sort of thrown into the fire. The first semester I played in it---they would always bring in a famous jazz artist---the first person he brought in was Marian McPartland. The last number they play is 'Shiny Stockings,' and they wheel out another grand piano, put it right next to hers, and he opens the thing up wide open, and just has us go back and forth. By the time that was done, everyone in the house was on their feet screaming and yelling. You know, hometown kid does well!
"Then all the guys that I wished I could play with, all the heavy jazz guys, came up to me right after the concert and I immediately fell in with them. For the next three years, I was playing with jazz groups all the time. It was like zero-to-sixty in one semester."
Thus began John Toomey's jazz career. He completed his undergraduate studies with a degree in music education, and was kicking around the music scene in Albany, New York. He decided to continue his formal education, and was accepted into the prestigious graduate program at the Eastman School of Music in Rochester.
After receiving his master's degree, Toomey taught at Central State University in Ohio for 3 ½ years. While there, he took a summer gig with Maynard Ferguson's big band in 1987. After the summer tour, Ferguson asked him to stay on as the band's music director. So, he gave up the teaching job and hit the road with Ferguson for the next two years.
"I saw every state, the Berlin Jazz Festival, a month in Japan. It was very busy," he says. "After two years of that, it was enough. Most of the time you're on the bus, you're not making that much money, you begin to realize you're repeating yourself."
So Toomey returned to academia. After a year teaching at Olivet College in Michigan, he got a call from Old Dominion University.
"What they wanted was somebody to be half jazz specialist, half electronics specialist."
His time with Ferguson using multiple synths along with his acoustic piano and his side work doing commercials gave him the experience and pedigree to handle both halves of the ODU job.
Toomey's been here since 1990. He's played local gigs throughout the region. He's worked on soundtracks, composed jingles, and been involved in several recording projects. He's also brought big name jazz performers to ODU for weeklong residencies and performances.
And he's been quite successful at his day job, that of university professor. Locally based jazz musicians often are approached by his students, who are working on a homework assignment to listen, learn from and critique style, performance and repertoire. The collegians all give high marks to their teacher.
Toomey's been at the forefront of teaching technology, using the school's TELETECHNET network to link his classes to students across the state. In 2000, he won a SCHEV award as one of Virginia's State Council of Higher Education Outstanding Faculty, the ultimate recognition for a teacher at the college level in Virginia.
These days, Toomey is on the road a lot, working primarily with rising jazz vocal star Rene Marie. He's also toured with the Uptown Jazz Vocal Quartet and legendary singer Mark Murphy, performing in venues like Georgetown's Blues Alley and Birdland in New York City.
"With a singer," he says, "I enjoy doing what you're supposed to do, which is to showcase them the best you can and respond to what's happening. Support them, but don't overstep or get too busy."
In the last year or so, he's accompanied Ms. Marie at jazz festivals in Europe, the Bahamas, the Dominican Republic, the Monterey Jazz Festival, along with high profile gigs at some of the top jazz clubs across the country.
"It's really gone up, up, up with her," he notes.
He's looking forward to Friday night's "all request" concert at the Roper, where he'll be joined by his longtime rhythm section, bassist Jimmy Masters and drummer Howard Curtis. The trio recorded Toomey's most recent CD, Refraction, last year, and also accompanied Uptown vocalist Lisanne Lyons on her last solo recording, Smile. Ms. Lyons will join them for a few tunes Friday night.
"I hope the attendance is strong on the 6th," he concludes, "because it'll be exactly what I think most of the audience would like. We'll kind of lay it out there, for the beauty of the tune. There will be soloing, but it won't overshadow the main point to begin with, which is playing these great pieces of music."
copyright © 2002 Jim Newsom. All Rights Reserved.
---