---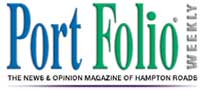 PortFolio Weekly
July 8, 2003
Rollin' at the Roper
by Jim Newsom
Jazz impresario Blake Cullen has announced the first three concerts of his 2003-04 Jazz on Granby series, and it looks like an excellent mix of shows, each with its own distinct appeal. All performances will once again be staged at the Jeanne & George Roper Performing Arts Center at 340 Granby Street in Norfolk.
The new season kicks off on Friday, August 15th, with a tribute to the late jazz guitarist Charlie Byrd, a Chuckatuck native who was honored last fall with a star on Granby Street's Legends of Music Walk of Fame. A couple of folks who knew Byrd well will lead the tribute---fellow Hampton Roads legend Tommy Newsom will add his saxophone stylings to the sweet rhythms of the Joe Byrd Quartet. Joe, a bassist, is Charlie's younger brother, and Tommy was Charlie's collaborator on some of his biggest recordings, including Brazilian Byrd, More Brazilian Byrd, Hollywood Byrd and Jazz Recital.
An important element of any tribute to Byrd is the choice of guitarist, in this instance Steve Abshire. A former member of the Navy Commodores, Abshire has quite a reputation in the Washington, DC, area. Those who've heard him in action tell me he's a perfect choice to fill the rather large musical shoes left behind by Charlie Byrd.
The August 15th Byrd/Newsom show is a featured part of this year's Jazz Norfolk, a weeklong celebration of jazz incorporating several venues and a week of great music.
On Saturday, October 4th, Maria Muldaur will grace the Roper stage with a program entitled "Remembering Peggy Lee." Muldaur's most recent recording, A Woman Alone With the Blues, was a tribute to Ms. Lee, who died last year, and it is a magnificent piece of work. Baby boomers and oldies radio listeners will remember Muldaur for her 1974 megahit, "Midnight at the Oasis," and the mid-'70s albums Maria Muldaur and Waitress in a Donut Shop. But for the last ten years, she's been making superb blues and jazz discs full of delicious double entendre and sultry, sensuous swing.
I interviewed her earlier this year for Port Folio Weekly, and she was a delight, full of energy, enthusiasm and good humor. Her singing voice sounds better than ever. Hearing her with a jazz quartet in the acoustical warmth of the Roper will be a real treat.
Trumpeter Randy Brecker comes to town on Friday, November 14th, with the Marc Copland Quintet. Brecker has been in the middle of the music scene for 35 years, since his days as an original member of Blood, Sweat & Tears. He subsequently teamed up with his saxophone playing brother Michael to form the fusion horn band, Dreams, featuring drummer Billy Cobham, and in the late '70s he and Michael piloted the Brecker Brothers to the upper reaches of the jazz/pop/funk world. For the last twenty years, he's been one of the finest, most respected hornmen on the jazz scene, performing at times with his brother and also with his wife, pianist Eliane Elias. He's played with a literal "who's who" of the music world, including James Taylor, Bruce Springsteen, Frank Zappa, Horace Silver and Parliament/Funkadelic. Randy was here for a weeklong residency at ODU last spring, and he turned out to be a nice guy and a monster on trumpet and fluegelhorn.
This time out, Brecker will be working with pianist Marc Copland's group. Copland started his jazz career as an alto saxophonist in the early '70s, but after a hiatus, switched to piano, the instrument on which he's built a solid reputation for the last twenty years. His lyrical style has been compared to Keith Jarrett and Bill Evans.
Tickets for each concert are $15.00 in advance, $20.00 the day of the performance, and season tickets are available for all three shows for just $40.00 each. For information, visit www.jazzongranby.com, or call 623-4141.
copyright © 2003 Port Folio Weekly. Used by Permission.
---