---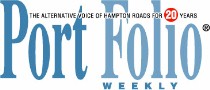 PortFolio Weekly
October 7, 2003
Granby Street Blues
by Jim Newsom
Choosing to open a restaurant is one of the riskiest financial decisions a person can make. Approximately 9 out of 10 fail.
Norfolkís Blues Alley Bistro is the latest statistic. Chef/owner Calvert Johnston closed his doors after the weekend of September 12-14, making the tough decision to stop preparing his unique brand of tasty food while presenting the regionís top jazz players. That last weekend featured high profile drummer Jae Sinnett performing in a trio with high school piano phenom Justin Kauflin.
But not enough money was coming in the doors to offset the high costs of Granby Street rent, quality food preparation, utilities, insurance, payroll, taxes, repairs and maintenance, advertising and entertainment. Itís a shame.
Calvert had big ideas when he opened, hoping to provide a New York/Washington, D. C. -style jazz club that would help nurture the local jazz scene. But he discovered his twin goals of offering fine dining and live jazz music may be mutually exclusive. As he told me, many of his early evening diners were not particularly interested in the music that started at 8:30, and his coterie of jazz lovers would have preferred a more casual menu. In a sense, he was trying to do too many things in one place, creating a schizophrenic public identity.
He also acknowledges making a few mistakes in judgment, the most obvious one being the institution of a cover charge and minimum once the music started. As he explained at the time, thatís what clubs like Blues Alley in Washington and the Village Vanguard in New York do. But he soon discovered that Norfolk is neither Washington nor New York City. Unfortunately, a lot of first timers who were frightened away by the cover and minimum never came back once they were no longer in effect.
He and I also debated his smoking-at-the-bar and in the lounge policy. In this day and time, most diners interested in mid-to-high end dining do not want second hand smoke as a side dish. Blues Alley was small and intimate, and the smoke from the bar and the back often wafted over to nearby tables. Iíve spoken with many customers who enjoyed the food and the music, but chose not to return because of the smoke.
Finally, Blues Alley was ahead of its time. Located on a corner a couple of blocks from the encroaching Granby Street renaissance, it was not in the heart of that renaissance and didnít benefit from foot traffic like the nightspots in the 200 block. Within a year, though, someone is going to make a killing on that corner as the renovations continue at that end of the street, and new restaurants and shops open creating the critical mass necessary for success.
Calvert Johnston is a man with a big heart and a real love of jazz. He persevered for nearly three years, sticking to his singular vision and continuing to provide local jazziacs a place to play, hang, and be treated with respect. Heís one of the good guys. He and his restaurant will be sorely missed.
With the demise of Blues Alley, thereís no place left where jazz is the centerpiece every weekend. Unfortunately, even in places that have jazz regularly, the music is often secondary, with the emphasis on keeping it quiet and in the background. Thatís where Blues Alley stood out---the music was front and center. Nonetheless, you can still find some great musicians plying their trade around town.
The Russell Scarborough Trio plays a couple of Tuesday night gigs this month at Offshore, a new place at 2973 Shore Drive where the 5150 rock club used to be located. Offshore is aimed at a higher end clientele than its predecessor, and will feature Russellís group on the 14th and 21st. He and the guys are currently working on a new CD for release by yearend.
Bruttiís in Portsmouthís Olde Towne features jazz duos on the weekends, with trumpeter Steve Nygaard holding down the Friday slot with pianists Dave Adams or Michael Sorg, and guitarist Woody Beckner in on Saturday nights with bassist Chris Brydge. Woody is also at Kincaidís in the MacArthur Center every Friday night with a group featuring saxman Jeff Smith.
Singer/saxophonist Charles Darden performs outdoors in Styron Square at Port Warwick in Newport News on Sunday afternoon, October 26th, starting at 2:00 pm.
Jimmy Masters is going on tour this month with saxophonist Glenn Wilson. Theyíll hit four states---Indiana, Illinois, Ohio and Pennsylvania.
Williamsburg pianist Harris Simon is also going out of town---to the Hong Kong Harmonica Festival. Heíll be back on October 16th, when he resumes playing at the Corner Pocket on Thursdays and Fordís Colony every Friday and Saturday.
Outer Banks jazz diva Laura Martier has organized the Carolista Music Festival for this Saturday in the outdoor pavilion at Roanoke Island Festival Park. Subtitled ďStrong and Beautiful Women, and the Men Who Love and Respect Them,Ē the festival features Martier along with Julie Clark and Rosie Ledet, and runs from 2:00-7:00 pm.
You can catch me and my musical partners at the DíArt Centerís annual gala auction this Friday night and the Stockley Gardens Arts Festival on Saturday, October 18th, at 3:00 pm.
Finally, the Chrysler Museum continues its Wednesday night jazz series every week, from 6:15 to 8:45 pm in the museumís cavernous Huber Court. Hereís a place where, one night a week, jazz is in the foreground. The musicians can be heard, and you can actually sit and listen in a comfortable smoke-free environment. As I write this, the October schedule is not quite firm, but you can call 664-6200 to find out whoís playing when.
copyright © 2003 Port Folio Weekly. Used by Permission.
---