---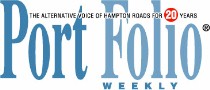 PortFolio Weekly
September 9, 2003
Jazz Scene: Prodigies and Legends
by Jim Newsom
Every once in a while, a young musical prodigy appears out of nowhere, with chops far more developed than seems possible for someone so young. We are blessed with several fine teenage musicians in Hampton Roads, but few are as talented as 16-year old Justin Kauflin of Virginia Beach.
"His sense of interpretation is like no other student I've ever encountered," says veteran jazz musician and educator Jae Sinnett, who mentors the young pianist as director of the Governor's School for the Arts Big Band. "He has an incredible ability to focus. He works at the speed of light, listening and practicing every day.
"Even at his young age, he's playing more piano than anyone I'm hearing. He's already a force."
Sinnett thinks so highly of Kauflin that he's invited him to play on several gigs in the area, "to get him out in public so he can conquer the jitters and all those things from the first time out."
To that end, the two will play together with Sinnett's regular bassist, Terry Burrell, at Blues Alley this Friday and Saturday night, September 12th and 13th. They've already got a few performances under their belt together, and Justin has sat in on the Sunday night jam session there, but Sinnett says this will be the best opportunity yet to hear what the young man can do.
A junior at Salem High School, Kauflin has unexpected reach and range, and a feeling for jazz that belies his age. His talent is even more amazing when you realize he can't see the keyboard or read music. He suffers from a degenerative disease that gradually took away his sight, leaving him legally blind at the age of 12.
Jae believes Justin has a tremendous musical future. This weekend you can check him out for yourself.

Did you get out to some of the Jazz Norfolk concerts last month? The 5-day event was a musical success, with the three headlining shows at the Roper presenting different parts of the jazz spectrum, reinforcing the depth and width of the genre. Unfortunately, only a few hundred people took advantage of the opportunity to experience this superb mix of music.
Kenny Rankin's solo performance on Thursday night was outstanding. Although he said he was having problems with his voice, he sounded great to those of us in the audience. Accompanying himself with his nylon-string classical guitar, his set ranged from original masterworks "Peaceful" and "Haven't We Met" to a gorgeous turn on Lennon & McCartney's "Blackbird" and Jimi Hendrix's jazziest tune, "Up From the Skies." Rankin really seemed to enjoy the response from the small but appreciative audience, an audience made up more of folkies than hard-core jazzers.
Friday night's Tommy Newsom/Joe Byrd tribute to guitarist Charlie Byrd was absolutely perfect, pure class, not unlike the late guitarist himself. With the best crowd of the week, about 450 in attendance, the two leaders shared the spotlight with guitarist Steve Abshire and vibesman Chuck Redd. Byrd's core quartet was well-oiled, and Tommy slid right into the mix as though he'd been there all along. The second half of the show was all Jobim, and boy was it sweet. The only gaffe I noted was Joe Byrd's introduction of "Girl From Ipanema" as "Charlie's biggest hit." Actually, "Desafinado" was, but who can quarrel when the music is this good!
Ravi Coltrane's set Saturday night was on a whole different plain. Wow! There were definite connections to his father's style, but he and his quartet maneuvered the tricky changes of the mostly original set flawlessly, soulfully. The spirituality of the music recalled John Coltrane's "A Love Supreme," yet there was a distinctiveness that set it apart from its antecedents. Pianist Luis Perdomo was particularly noteworthy and the rhythm section of unknowns, bassist Ugonna Okegwo and drummer Damion Reid, was about as good as it gets. I didn't hear a missed note or stray rim shot all night. The encore-opening "Giant Steps" of course ignited the auditorium.
There were decent turnouts for the events featuring local musicians, with a nice crowd Wednesday night at the Chrysler Museum, and packed houses Friday through Sunday at Blues Alley. The concluding jam session was the biggest yet.

The Chrysler Museum continues to support the local scene with its Wednesday night jazz series. This week it's Swing Time and next week vocalist Elsa Tiritilli performs in Huber Court on September 17th. Against All Odds finishes the month out on the 24th.
AAO is also at the Alley in Newport News on Friday the 26th. They'll be featured at the Umoja Festival in Portsmouth's Ntelos Amphitheater Saturday night the 20th. On Saturday, September 13th, Charles Peterson's group plays a doubleheader, beginning with the Neptune Festival Wine Tasting in the afternoon and winding up on the Center Stage of Waterside that night.
Speaking of the Neptune Festival and wine, the Jim Newsom Quartet wraps up that two-day event on Sunday afternoon, September 14th, at the 24th Street Stage next to the boardwalk. We'll also be at the Chesapeake Arts & Crafts Festival at Lakeside Park in South Norfolk on the 21st.
Besides the Jae Sinnett/Justin Kauflin dates, Blues Alley's Saturday night line up includes Steve Nygaard & Michael Sorg on the 20th and the Odd Bop Quartet on the 27th. Blues Alley's successful Sunday night jam sessions also continue through the month, directed by Russell Scarborough and his trio.
The Woody Beckner Quartet featuring saxman Jeff Smith will spend their Friday nights this month at Kincaid's, while Woody is working in several different duo settings on Saturday nights at Brutti's in Portsmouth. He's also at Central 111 in Virginia Beach every other Monday (15th and 29th), alternating Mondays with Scarborough's group (8th and 22nd). Russell is also jazzing up the ZooToDo on the 20th.
Sinatra-like singer and saxophonist Charles Darden brings his trio into Brutti's on September 19th, and can also be heard at Harry's Tavern in Williamsburg with the Harris Simon Trio on the 26th.
copyright © 2003 Port Folio Weekly. Used by Permission.
---