---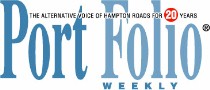 PortFolio Weekly
August 3, 2004
Jazz Happenings Hereby and Nearby
by Jim Newsom
Jae Sinnett placed first in the "Best Jazz Musician" category in PFW's recent "Best of Hampton Roads" poll. There are several chances to find out why this month when he and his trio mates, pianist Allen Farnham and bassist Terry Burrell, perform hereby and nearby. This Thursday night, they're down at the Festival Theatre in Manteo. On Friday, August 13th, they return to the Outer Banks for a gig at Ocean Boulevard in Kitty Hawk. The next day they travel up to Newport News for a 9:00 start at the Tapas Lounge, then head to Jae's adopted hometown on Sunday for a free concert on the Buddy Bagley Stage in Chesapeake City Park (where the Jubilee takes place) beginning at 7:00 pm.
For a scrumptious Sunday brunch served butler style with jazz accompaniment, Sterling's on Granby Street in downtown Norfolk is the place to be. I'll be there with my bass playing compadre Dave Hufstedler this weekend and two Sundays later on the 22nd. Guitarist Matthew White slides in between our dates on August 15th, and Becky Livas brings her vocal stylings in on the 29th. Music is served from 11:00 am to 2:00 pm. Sterling's also recently added keyboardist Frank Johnston and various guests on Thursday evenings.
The Chrysler Museum's Huber Court is the place to be on Wednesday nights in Norfolk. This week, Swing Time, featuring Larry Weintraub, Tim McDonald and Terry Burrell, holds sway beginning at 6:15. Mr. Bassman Jimmy Masters comes in with pianist John Toomey next Wednesday. Against All Odds livens the place up on August 18th, and Grace Street closes out the month on the 25th.
If you're on the peninsula on a Wednesday night this month, you can find jazz happening at the Pavilion in William Styron Square in the Port Warwick development. This week you'll find the nuevo flamenco sounds of Sol Libre starting at 6:00 pm. On the 11th, guitarist Woody Beckner fronts his group there, with the Mike Jacobs Quintet holding down the fort on August 18th and Jon Wade with his quintet on the 25th.
Brutti's in Portsmouth's Olde Towne continues its regular jazz series, with Woody Beckner doing a duo thing every Saturday night with alternating partners Jimmy Masters and saxist Jeff Smith. Friday, August 6th, is Michael Sorg's last night in town. Percussionist Leon Alexander will be there with him, and a number of his musical pals will also be dropping by to jam a bit and say goodbye.
Besides their Chrysler Museum date, Against All Odds plays at Alice Mae's on Bank Street in downtown Norfolk, voted by our readers as "Best Restaurant For Listening to Live Music," this Saturday night at 8:30. The following Saturday, the 14th, they're at Guadalajara. On Friday, August 20th, the quintet makes its monthly appearance at the Alley in Newport News, on the 21st they're playing the Town Point Club. On the last Saturday of the month, they play an afternoon wine & jazz to-do at the Cavalier at the Beach.
Charles Darden leads a septet at the Mariner's Museum on August 12th, featuring a three-man horn lineup and a topnotch rhythm section featuring Bob Hallahan, Jimmy Masters and Howard Curtis. Jimmy's also going to be down at the Roadside in Duck, NC, most Thursdays with Laura Martier, Woody Beckner and Laura's husband Dan on the drums.
The Seawall Art Festival on the Portsmouth waterfront has some jazz too. On Saturday, August 28th, Larry Weintraub fronts a quartet version of Swing Time at 11:15, and the Jim Newsom Quartet finishes up the day with a couple of sets starting at 4:00 that afternoon.
Steve Nygaard and Dave Adams have the coolest gigs of any local musicians this month, playing at the Telluride Jazz Festival in the Colorado Rockies. Steve fronts a quintet on Friday, August 6th, that includes Charlottesville pianist Hod O'Brien and renowned alto saxophonist Richie Cole, opening for Leon Russell. On Sunday, Dave leads his Young Razzcals Jazz Project, featuring local teenage musicians, performing on a bill with Kurt Elling and Flora Purim & Airto Moreira. Hope they send a postcard!
copyright © 2004 Port Folio Weekly. Used by Permission.
---