---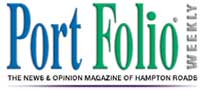 PortFolio Weekly
August 5, 2003
Jazz Scene: Jazz Norfolk and Beyond
by Jim Newsom
It's August, and Jazz Norfolk is almost upon us. The five-day music festival begins next Wednesday, August 13th, with the Jim Newsom Quartet in Huber Court at the Chrysler Museum, and runs through Sunday, August 17th when it ends with an all-star jam session at Blues Alley. Although this year's event is less elaborate than in years past, there will still be an assortment of jazz to be seen and heard.
The Roper Center for the Performing Arts is the venue for the major events of this year's fest. On Thursday night, jazz singer/guitarist Kenny Rankin takes the stage in a concert to benefit the Hope House Foundation. On Friday, Tommy Newsom hooks up with the Joe Byrd Quartet to pay tribute to guitar great Charlie Byrd. Saturday night's show features saxophonist Ravi Coltrane, son of John and Alice Coltrane.
Blues Alley is the place to go after the Roper shows, with the Odd Bop Quartet on Thursday night and Steve Nygaard's Birdland Express moving in on Friday and Saturday. Kincaid's in the MacArthur Center is also an option after Friday's Charlie Byrd tribute, with guitarist Woody Beckner and his group on tap.
Look for lots more Jazz Norfolk information and interviews in next week's Port Folio Weekly.

Besides the sobriquet "world's greatest drummer" of his generation, Buddy Rich is probably best remembered for the smokin' big bands he led from the mid-'60s until his death in 1987. Therefore, it's somewhat ironic that one of the best small groups working in jazz these days started as homage to Rich.
Drummer Steve Smith, who staked his claim to musical fame as drummer for the rock band Journey, originally assembled a group of latter day Buddy Rich alumni for a tribute called Buddy's Buddies in 1999. He reconstituted the group with a couple of personnel changes for a weeklong stay at Ronnie Scott's famed jazz club in London last summer, and the result is the recently issued Very Live at Ronnie Scott's---Set One (Tone Center).
Rich first appeared at the club in 1967 and recorded a live album there in 1980. Saxophonists Andy Fusco and Steve Marcus were in the band at that time, and they are the direct link back in this incarnation of Buddy's Buddies. Mixing tunes from the Rich playbook with new compositions and jazz classics like John Coltrane's "Moments Notice" and Sonny Rollins' "Airegin," the quintet is on fire for this disc that captures the high energy and crisp playing of live jazz at its best.

To hear a great jazz/rock big band in its prime, check out two new Maynard Ferguson reissues from Columbia/Legacy. The title track of 1974's Chameleon takes the Herbie Hancock funk classic into the stratosphere, setting the tone for an album full of screaming Ferguson trumpet solos and complex-yet-accessible Jay Chatttaway arrangements. "Gospel John" is a tune you'll recognize even though you won't know the name, and the band gives Chick Corea's "La Fiesta" a high powered ride that literally takes the memorable melody to new heights. "The Way We Were" is a surprisingly effective ballad featuring a trombone lead, and then-current pop hits "Jet" and "Livin' For the City" sound fresh in this horn-propelled setting.
The disco-fied Conquistador, originally released in 1977, was Ferguson's best selling LP on the strength of his version of "Gonna Fly Now," the theme from the movie Rocky. The hand of executive producer Bob James is all over the proceedings here, with Ferguson's regular band of the time augmented by a huge cast of studio musicians and vocalists. The disco rhythms, string arrangements and chanting background singers really date this disc, but there's no denying the attraction of a George Benson guitar solo, the beauty of Ferguson's playing when he blows a mellow flugelhorn line, or the joyous sound of Bobby Militello sailing his flute across the "Theme From Star Trek."
Yes, it's as dated as it can be, and Maynard Ferguson's upper register pyrotechnics can wear you out. Nonetheless, Conquistador is a guilty pleasure that embodies a moment in time when music was fun. Chameleon captures the brassy side of jazz/rock fusion just before the formulas and disco beats killed it off.

In addition to the Jazz Norfolk show on the 13th, the Chrysler Museum continues its Wednesday night jazz series through the month. On August 6th, vocalist Vinnie Knight cooks up a little musical magic. Saxman Reginald Gist brings his horn in on the 20th, and Against All Odds closes the month out the next week with their eclectic mix of the new and the old.
You can also catch Against All Odds on the center stage of Waterside this Saturday evening and at the Diggs Park reunion in Norfolk the afternoon of August 16th. They'll be at the Alley in Newport News on August 27th and on Saturday the 30th at the Contemporary Art Center in Virginia Beach.
Woody Beckner continues his residencies at Kincaid's on Friday nights and at Brutti's in Olde Towne Portsmouth on Saturdays. He'll also be at Central 111 in Virginia Beach on alternating Monday nights (4th and 18th) as will the Russell Scarborough Trio (11th and 25th).
Russell and his guys are at Blues Alley every Sunday evening anchoring the weekly jam session there. These musical get-togethers have taken off this summer, and it's a great place to bring your ax and show your stuff, or just sit back and enjoy good food and good music.
Later this month, the Seawall Art Show brings jazz to the Portsmouth waterfront when my quartet and a group led by Tommy Newsom and Pat Curtis headline the bill on the afternoon of Saturday, August 23rd.
copyright © 2003 Port Folio Weekly. Used by Permission.
---