---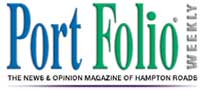 PortFolio Weekly
July 8, 2003
Jazz Scene: Swing Into Jazz Norfolk
by Jim Newsom
I can't believe we're already into July. The summer is moving past far too quickly. Before you know it, Jazz Norfolk will be swinging down Granby Street and other downtown avenues.
This year's festival runs from August 11-17, and features three major concerts taking place at the Roper Center for the Performing Arts on Thursday, Friday and Saturday night beginning at 8:00 pm. In addition, other jazz venues will be spotlighting locally based favorites.
On Wednesday evening, August 13th, my group, the Jim Newsom Quartet, will perform in Huber Court at the Chrysler Museum as part of the Museum's ongoing Wednesday Night Jazz series. The next night, singer Kenny Rankin performs at the Roper in a "Jazz For Hope" benefit concert, with proceeds going to support the fine work of the Hope House Foundation. On Friday, saxophonist Tommy Newsom joins the Joe Byrd Quartet for a special tribute to jazz guitarist Charlie Byrd, kicking off a new Jazz on Granby season. Saturday evening, saxman Ravi Coltrane, son of jazz legend John Coltrane, brings his group to the Roper for the festival's climax. The denouement takes place Sunday, August 17th, with an all-star jam at Blues Alley.
Kenny Rankin is probably best known to late '60s and early '70s viewers of late night TV. He was one of Johnny Carson's favorite singers in those days, and made many appearances on the Tonight Show. In those days, he was more of a jazz-inflected folk singer, somewhat like Jesse Colin Young. But as he matured into the 1980s, his music took a more direct turn towards jazz, and he began performing mostly standards and pop tunes. His most recent CD, A Song For You, released last year on the Verve label, mixes jazz versions of Lennon & McCartney's "I've Just Seen a Face," and Ben E. King's "Spanish Harlem" with a vocal take on Thelonious Monk's "Round Midnight" and several tunes from the Great American Songbook.
Charlie Byrd was a Chuckatuck-born guitar master who straddled the fence between classical, jazz and Brazilian music. He and Tommy Newsom worked together often during his life, and his brother Joe played bass with him for much of his career. See the accompanying story about the Jazz on Granby series for more on this show.
Ravi Coltrane's new recording, Mad 6, was reviewed in these pages last month. The 37-year old builds on the musical innovations of his father, carrying the Coltrane-saxophone connection into the 21st century. Ravi is a magnificent musician in his own right, moving from cacophonous wizardry to tasteful softness on the tenor and soprano horns.
Tickets for each of the Roper concerts are $15.00 in advance, and $20.00 on show day, so it's worth your while to visit the Roper box office in MacArthur Mall or your favorite Ticket Master location and book your seats early.
Portsmouth's Todi Music Festival is a mostly classical affair, but on Monday, July 21st, the scene moves to Brutti's in Olde Towne for an evening of vocal jazz with Outer Banks jazz diva Laura Martier doing two shows with the John Toomey Quartet. Jimmy Masters, Eddie Williams and Howard Curtis round out the quartet for this affair which will likely feature material from Laura's Intersection, an excellent recording of '60s-era rock and folk tunes put into a jazz setting with this same instrumental lineup. Show times on the 21st are 8:00 and 10:00 pm.
The Chrysler Museum has a full schedule booked for July's Wednesday Night Jazz. This week, vocalist Vinnie Knight performs. On July 16th, Jimmy Masters leads a trio featuring Toomey and Curtis. On July 23rd, it's Swing Time and the month wraps up the next week with Ra Jazz.
There's a new entry into the downtown Norfolk live music scene, Coyote Café West at 216 E. Plume Street. Against All Odds played opening night a couple of weeks ago, and Gary McIntyre and Jen Chase plan an eclectic booking mix. There'll be rock, acoustic, rockabilly, western swing, punk, funk and jazz, so check the listings for the schedule. The Jim Newsom Quartet is the next jazz entree this Saturday, July 12th.
This month, Against All Odds is playing a midnight cruise on the Spirit of Norfolk on the 19th, and will be in Newport News at The Alley on Friday, July 25th.
Norfolk's Blues Alley hosted its first Sunday Jam Session two weeks ago, and it was a lot of fun. About a dozen local jazz musicians, both well known and less so, turned up to improvise with the Russell Scarborough Trio. The music level and spirited good vibes were very high. A responsive crowd was on hand, and I can only imagine that the scene will grow weekly as more players and jazz fans learn about it.
This Friday night, I'm playing there with trumpeter Ron Hallman, doing mostly vocal standards with guitar and brass accompaniment. Steve Nygaard and Dave Adams roll their Birdland Express in on the 18th and 19th, and the Odd Bop Quartet will play its mix of Eric Dolphy and Thelonious Monk-inspired originals on Friday the 25th.
copyright © 2003 Port Folio Weekly. Used by Permission.
---