---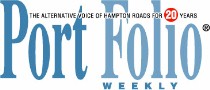 PortFolio Weekly
June 8, 2004
Goin' to Nashville
by Jim Newsom
Tim McDonald has made quite a name for himself in the local jazz community since arriving here three years ago, assigned by the U. S. Army to teach piano to military musicians at the Armed Forces School of Music. He's played regularly with the Russell Scarborough Trio; worked with Jae Sinnett, Kevin Flowers, Larry Weintraub's Swing Time, Against All Odds; and was part of the band I put together for the Legends of Music concert last fall.
Scarborough honored him earlier this year with a recording entitled Russell Scarborough Presents…Tim McDonald, reviewed in these pages in the March 2nd issue. Tim recently released his own self-titled disc featuring bassist Terry Burrell and drummer Leon Alexander. It's an intriguing look at a few of the pianist's many sides, an engaging introduction for the uninitiated.
Sadly, it's also a farewell of sorts. His hitch with the Army is ending, and Tim is heading out to Nashville next month to take a shot at Music City. You see, in addition to being a fine jazz pianist, Tim also writes country songs, trying, as he told me, "to write and perform songs that touch people's lives and give them fresh hope in a troubled world." The world could use a few songs like that!
Jazz is McDonald's first musical love, though, and his chops are on display with Tim McDonald. He mixes well known jazz standards with a few of his own originals, and puts some of his pianistic influences on display. His McCoy Tyner side is in evidence on the trio's run through Wayne Shorter's classic, "Footprints," while his love for Vince Guaraldi is readily apparent on "Bye Bye Blackbird," "Don't Know Why" and Guaraldi's best known tune, "Linus and Lucy." It's interesting to me that with their take on "Don't Know Why," Tim and his sidemen actually succeed in turning Norah Jones' music into real jazz.
He and bassist Burrell put a fresh face on Miles Davis' oft-recorded "So What," and "You & the Night & the Music" gives the bassman some room to move. McDonald's tribute to recently deceased jazz educator and bandleader Frank Mantooth, "Waltz For Frank," is very pretty, and this disc's version of "Three Blind Mice" is more subtle than the one on Scarborough's album. The set closing "Caught Leon Steelin'" is just that, a chance for Alexander to work out on the steel pans.
Tim McDonald is a genuine talent and a truly nice guy. He will be missed around here, but I wish him much success seeking the big time. Check this column to see where he'll be playing until he leaves, and go to his website, www.ivorytickler.com, to pick up a copy of this CD.
_______________
The newest place to feature jazz on a regular basis is Sterling's, at 245 Granby Street in downtown Norfolk. Proprietors Baxter Simmons, Junior and Senior, started a Sunday Jazz Brunch a couple of months ago, and they say they are committed to giving it enough time to grow and build an audience. I played in there last month and was impressed with the turnout and with the food. It's served "seated buffet" style, with the selections brought on trays to your table by the wait staff.
The musical roster has consisted primarily of duos thus far, and the cozy confines of the restaurant make a drummerless setup the best choice. The June lineup includes guitarist Matt White, a VCU music student on the 13th; I'll be there with trumpeter Ron Hallman and bassist Mike Faircloth on the 20th; and vocalist Becky Livas is in on the 27th with keyboard accompaniment.
The longest running regular jazz gigs in this area belong to guitarist Woody Beckner. He's been playing Friday nights at Kincaid's in MacArthur Center for three years, and has had a steady Saturday night duo thing at Brutti's in Olde Towne Portsmouth for about the same length of time. Woody's also playing Thursday nights this month with Laura Martier and Jimmy Masters at the Roadside in Duck on the Outer Banks, and playing at the 24th Street Stage on the 22nd.
The Chrysler Museum has a long running commitment to presenting jazz in a comfortable, smoke-free environment. Now calling their every-Wednesday series "The Fine Art of Jazz," the Museum's Huber Court plays host to some of the best this month:
June 9 - Against All Odds
June 16 - Charles Darden
June 23 - Jimmy Masters
June 30 - Jim Newsom Trio
Music at the Chrysler runs from 6:15 until 8:45 every Wednesday night.
Against All Odds, a quintet led by saxophonist Charles Peterson, has a busy month ahead. In addition to the Chrysler gig, they'll be on the Center Stage at Waterside on Saturday, the 12th; playing the Port Warwick Concert Series on June 16th; the 18th finds them at the Alley in Newport News; they'll be on the 24th Street Stage in Virginia Beach on the 24th, and at Mill Point Park the afternoon of Saturday, June 26th. Later that evening, AAO brings their mix of classic and contemporary jazz to Peter's Seafood, Steak & Sushi on North Landing Road across from the Municipal Center in Virginia Beach.
Against All Odds is also a part of Portsmouth's Harbor Daze Jazz Sunday on June 13th. On that festival weekend, the Ntelos Pavilion will have a daylong jazz celebration, with the Russell Scarborough Trio starting at noon, AAO at 2:15, and the Jim Newsom Quartet wrapping the day up at 4:30. Harbor Daze runs concurrently with Norfolk's Harborfest, an event the JNQ plays on Friday afternoon, June 11th, at 3:00 pm.
Bassist Jimmy Masters has an eclectic month ahead. John Toomey plays with him at the Chrysler, and he's playing with Beckner at Kincaid's on the 18th and 25th, and Brutti's on the 26th. He's also at the 24th Street Stage on the 22nd with Woody, Jeff Smith and Steve Lett. Plus he'll be joining Woody and Laura down on the Outer Banks most Thursday nights. However, he'll flex his folk chops with Bill and Pam Gurley on Thursday, June 24th, at the Mariners' Museum's "Party in the Park."
In addition to his evening at the Chrysler, popular singer Charles Darden performs with his Quartet at the 24th Street Stage at the oceanfront on June 30th, from 8:30 to 11:00.
Larry Weintraub plays for the Chrysler Museum's Family Day on Sunday afternoon, June 13th, with Tim McDonald, Terry Burrell and Ken Cross. McDonald also works Sunday nights this month as part of the Russell Scarborough Trio at Central 111 in Virginia Beach, with 6-string electric bassist extraordinaire Dave Hufstedler.
The Port Warwick series in Newport News includes jazz for many of its Wenesday night concerts. Besides AAO on the 16th, the Odd Bop Quartet is in on the 23rd and the Mike Jacobs Quintet on July 7th.
copyright © 2004 Port Folio Weekly. Used by Permission.
---