---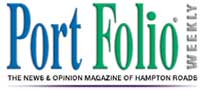 PortFolio Weekly
May 6, 2003
Jazz Scene: The Voice in the Music
by Jim Newsom
I happened to catch the last half of a TV special about the Dixie Chicks and their travails since one of them made a fairly innocuous comment about President Bush in the early days of the Iraq war. This trio has seen its recordings burned and bulldozed, been banned by a number of country music stations (including Eagle 97 locally), and received death threats on themselves and their families. All because lead Chick Natalie Maines said she was "ashamed" that the President was from their home state of Texas.
Interestingly, legendary jazzman Sonny Rollins touched on the subject of free speech and the times in which we live during the interview I did with him recently. He's been politically active in a soft-spoken kind of way for many years, particularly in matters concerning the environment. He even titled an album Global Warming five years ago.
At his concerts prior to 9/11/01, he told me, "I'd always say a few sentences about the condition of the world. However, after 9/11, I began to feel that it might be looked on as being unpatriotic if I mentioned something about the environment. So I sort of curtailed my little speech. I felt it might be construed in the wrong way.
"We're living in funny times now," he continued. "We know the history of McCarthyism, so musicians and artists have to be careful. It's dangerous to get into political things these days. I feel that artists have a place to play, but you've got to be careful. I know how easy it is to brand a person as being unpatriotic. It's happening now."
A singer who was not soft-spoken in her political activism was Nina Simone, who died two weeks ago. Ms. Simone was particularly outspoken on racism, and was a high profile participant in the civil rights movement of the '60s, writing the powerful anthem "To Be Young, Gifted and Black" and the lesser known "Mississippi Goddam." But her only top twenty hit was "I Loves You, Porgy" from Porgy and Bess, which she recorded in the late '50s. Spending the last thirty years as an expatriate in Europe, she was a distinctive song stylist well worth checking out. For those unfamiliar with her work, Nina Simone's Finest Hour (Verve) is a good, low priced place to start, and The Best of the Colpix Years (Roulette) is a fine sampler of her 1950s recordings.
I don't get to hear Marian McPartland's Piano Jazz very often, because it airs Saturday nights on WHRV-FM, and I am usually playing music rather than listening to it at that time. However, I recently received a batch of CDs from Concord Records' Jazz Alliance imprint containing complete programs from the series, and what a treat they are. Trumpeter Dizzy Gillespie joins pianist McPartland on one disc, Dave Brubeck on the second and singer Rosemary Clooney on the third. The music is wonderful, fueled by the creative spark that comes when great musicians get together in a relaxed, impromptu setting. Add in the stories and anecdotes McPartland and her guests share, and these discs make for truly captivating listening.
Locally, the Chrysler Museum continues its Wednesday evening jazz series this month, with my group, the Jim Newsom Quartet playing this week, Swing Time next Wednesday, vocalist Vinnie Knight on May 21st and Elsa Tiritelli on the 28th. The jazz grooves provide the ideal accompaniment for the Museum's current Ferrari exhibit.
Norfolk's Blues Alley plans to expand its musical offerings soon, adding live music on Wednesdays and Thursdays from 6:00 to 8:00. There'll also be a jam session on Sunday afternoons starting later this month. The weekend schedule includes the Chris Brydge Quartet this Friday, saxophonist Steve Rozek's Odd Bop Quartet Saturday, and the Russell Scarborough Trio May 16th-17th. I'll be in for Memorial Day weekend and the Eddie Williams Trio plays May 30th and 31st.
Guitarist Woody Beckner continues his Friday night residency this month at Kincaid's in MacArthur Mall and sets up shop each Saturday evening at Brutti's on Court Street in Portsmouth. He'll also play in the middle of MacArthur on Thursday, May 15th, at lunchtime, as a prelude to the Woody Herman Big Band's performance that evening in Portsmouth's Willett Hall as part of the Virginia Arts Festival.
The Festival will also feature amazing steel pan jazzman Andy Narell at the Beach's 24th Street Stage on May 11th, and my quartet will play Saturday afternoon, the 17th, at the Virginia Beer Festival in Town Point Park. Jae Sinnett has two Festival Williamsburg shows on May 23rd and 24th, at Merchant Square's Kimball Theatre Friday and the Williamsburg Lodge Saturday. His trio will be joined by highly respected vocal stylist Roseanna Vitro.
The Stockley Gardens Arts Festival will also feature a bit of jazz amongst its eclectic musical offerings, with guitarist Henry Johnson's jazz 'n blues band Saturday, May 17th, and my group the next afternoon at 3:00.
And Alice Mae's Soulfood Restaurant on Bank Street in downtown Norfolk is still packing 'em in on Friday and Saturday nights, spotlighting regional contemporary jazz favorites.
copyright © 2003 Port Folio Weekly. Used by Permission.
---