---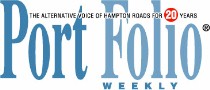 PortFolio Weekly
June 29, 2004
Jazz Recordings
by Jim Newsom
Various Artists
Happy Birthday Newport! (Sony Legacy)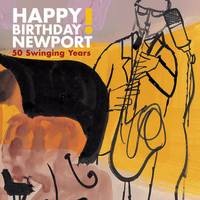 The Newport Jazz Festival celebrates its 50th anniversary in August and, as a commemorative, Sony Legacy is releasing this three-CD set featuring great performances from the festival's early years. Most of the 27 tracks come from the pre-Beatles heyday of jazz, 1956-1963. The giants of jazz are well represented.
The set starts off, appropriately enough, with two numbers by Louis Armstrong, the personification of jazz. Early legends Eddie Condon and Willie "the Lion" Smith are here, as is Count Basie's Orchestra on an extended romp through "One O'Clock Jump."
Duke Ellington's legendary performance of "Diminuendo in Blue and Crescendo in Blue" is captured, all fourteen and a half minutes, with Paul Gonsalves' spontaneous 27-chorus tenor sax solo bringing the crowd to a near riotous state. The John Coltrane Quartet's incredible performance of "My Favorite Things" from the 1963 festival is another celebrated Newport moment, made all the more interesting because Roy Haynes was filling in on drums for the absent in-rehab Elvin Jones.
Billie Holiday is captured in the raggedy latter years of her drug-shortened life, and Ella Fitzgerald is heard sixteen years later, in 1973, paying tribute to Lady Day with a magnificent turn on "Good Morning Heartache." Dinah Washington honors Bessie Smith with "Back Water Blues," Sassy Sarah Vaughan inhabits "Black Coffee," a tune usually thought of as Peggy Lee's, and Muddy Waters rocks the 1960 festival with a taste of the blues that inspired so many of the young Brits who became rock stars later that decade.
Miles plays a gorgeous "Round Midnight" with Monk. Monk's quartet appears a few tracks later augmented by clarinetist Pee Wee Russell, who actually sounds lost trying to figure out the chords to "Blue Monk." Dizzy fronts his big band on "I Remember Clifford," while J. J. Johnson and Kai Winding show how cool a two-trombone front line can be. Brubeck and Desmond "Jump For Joy," and Herbie Hancock steers the VSOP quintet through "Maiden Voyage." Miles' classic sextet does the "Fran Dance" in 1958. And there are several all-star jams.
This is one of those collections that, though three discs long, only whets your appetite for more. And every cut but the Miles/Monk ballad is available elsewhere---Coltrane's Newport '63; Ellington at Newport ; Ella's double-disc Newport Jazz Festival Live at Carnegie Hall. But this is a great reference point, a celebration of the best that jazz has had to offer, recorded live at its premiere event.
______________
David Murray & the Gwo-Ka Masters
featuring Pharoah Sanders
Gwotet (Justin Time)
"This is the kind of music that makes me grind my teeth."
That's the reaction my wife had when I played this CD in the car recently. There's no accounting for taste, of course, but I find Gwotet to be a funky collection of on-the-edge music. Yes, there is cacophony sprinkled across some of the grooves, but not the totally atonal brand essayed by the '60s avant garde. Actually, this music is quite melodic, and the horn section lays down some thick, attractive harmonies.
But David Murray is definitely caught up in the spirit of his featured guest here, and no one can make a tenor saxophone honk, scream and wail like Pharoah Sanders. He turns it into a whole new instrument, and Murray is very much his disciple on the three tracks on which Pharoah appears. When the two crank up in tandem, the harmonics are otherworldly. The twelve-minute title track brings to mind Sanders' 1996 Message From Home, with its pulsing groove and chanting vocals. But the fat horn section sounds like a summit meeting between Tower of Power and the World Saxophone Quartet.
The rhythm section is funky and powerful, driven by Guadeloupean ka drum master Klod Kiavue. Guitarists Christian Lavison and Herve Sambe have that Graceland meets Earth Wind & Fire Senegalese polyrhythmic funk thing down. Some surprisingly tender moments pop up here and there as well, and every track takes you to fresh new destinations.
For nearly thirty years, David Murray has been an adventurous musical explorer, full of passion and spontaneity. He's no novice at stretching the harmonic boundaries and fashioning an individual sound and aesthetic. Far from been a teeth grinder, Gwotet is one of the most interesting milestones yet on his continuing journey.
copyright © 2004 Port Folio Weekly. Used by Permission.
---