---

PortFolio Weekly
December 14, 2004
A High Note in Jazz
by Jim Newsom
Since the beginning of recorded music, some of the best jazz has been captured by small, independent record labels. One that has caught my attention lately is HighNote, a seven-year old label headed up by Joe Fields, an industry veteran who owned the legendary Muse label for 25 years.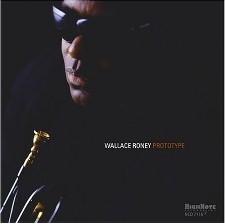 Trumpeter Wallace Roney has put together one of the most interesting projects of the year for HighNote, a tribute of sorts to his idol, Miles Davis, called Prototype. It's the logical extension of the fusion-era records that Miles and his sidemen/disciples produced thirty years ago, a pastiche of funk, soul and outer space that is totally refreshing in these conservative times. "Shadow Dance" comes straight out of Bitches Brew, with Don Byron's bass clarinet filling in where Bennie Maupin lay on Miles' masterpiece. There's a little Tutu here, Herbie Hancock's Mwandishi and Crossings there, and a whole lot of excellent explorative music for those who've wondered where jazz could've gone by now, had the young reactionaries not taken hold in the early '80s.
Mark Murphy was here earlier this fall at Jazz on Granby doing what was billed as a tribute to Duke Ellington. It wasn't, really, because Murphy is always himself no matter who he may ostensibly be honoring, and his voice isn't what it once was. But Bop For Miles was recorded in 1990, when his voice still was, and it's both a fitting tribute and one of Murphy's best recordings. His unique style is very much intact, and the song selection is classy. It's a great place to hear why Murphy is so highly regarded in the jazz world.
Tenor saxman Eric Alexander went into Rudy Van Gelder's studio in June with an acoustic quartet and laid down a beautiful set of tunes released as Dead Center. Sounding like Wayne Shorter in his pre-Weather Report days, Alexander and his cohorts traverse turf that is not particularly adventurous, but that is immensely enjoyable. The sound is impeccable, and the playing, while generally lowkey, is inspired.
Alto saxophonist Frank Morgan turns 71 next week, but his playing on City Lights, recorded live at the Jazz Standard, betrays none of his age but much of the musical knowledge he's acquired over the course of a 50-year career. Hailed at the beginning as an heir to Charlie Parker, and a prisoner to the same drug problems that took Parker out at an early age, Morgan flies across a set of well-worn material mixing ballads and hard-charging be-bop and post-bop that impresses and enlightens.
Origin Records is a Seattle-based boutique label founded by drummer John Bishop. Though Bishop's stated intent was to spotlight jazz artists of the Pacific Northwest, it's Connecticut-based vocalist Giacomo Gates that caught my ear with his recent Origin CD, Centerpiece. Gates is a soulful singer whose range is reminiscent of Kevin Mahogany and Johnny Hartman, and this disc swings like few others these days. You'll recognize most of the songs, but Gates has a knack for making each one sound new while conjuring up a very hip, 1950s west coast feel.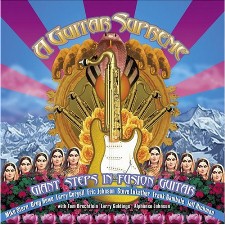 Tone Center is the jazz and fusion imprint of the hard rocking Shrapnel record label. Known for releasing modern takes on the jazz-rock hybrid, Tone Center has an electric guitar lover's dream album in A Guitar Supreme: Giant Steps in Fusion Guitar. The title should tip you off to the contents---eight fretmasters tackle a dozen tunes associated with John Coltrane. With a lineup of guys like Mike Stern, Frank Gambale, Robben Ford and Larry Coryell and a setlist including "Giant Steps," "My Favorite Things," and "Resolution," this is the Christmas gift for your favorite air guitarist.
Although it's now part of the giant EMI conglomerate, Blue Note began as the quintessential indie jazz label in 1939. Current president Bruce Lundvall and producer Michael Cuscuna continue to comb the label's treasure chest of classic jazz to find new ways to market their back catalog. Blue Note Plays The Beatles is one of the latest examples, an eleven song compilation that includes Buddy Rich's big band take on "Norwegian Wood," Stanley Turrentine swinging on "Can't Buy Me Love," Grant Green's unique journey through "A Day in the Life," Stanley Jordan tapping out "Eleanor Rigby" and Bobby McFerrin's multi-tracked "Drive My Car."
copyright © 2004 Port Folio Weekly. Used by Permission.
---