In the spring of 1983, I was involved with WHRO-TV as a volunteer copywriter for The Great TV Auction, a week-long annual fundraiser in which items donated by area businesses were auctioned off during prime time to benefit public broadcasting in Hampton Roads. Ed Tillett, then the local host of NPR's Morning Edition and emcee of television's Tidewater Challenge, remembered listening to me a decade earlier during my college broadcasting days on WUVT-FM, the campus radio station at Virginia Tech. He said, "You should be on the air here." Others agreed.
The Great TV Auction featured local radio and television personalities as emcees and auctioneers. It was particularly important for radio disc jockeys, giving them face time on television, and their listeners an opportunity to see what they looked like. TV news anchors, reporters, sportscasters and weathermen also took time out from their regular jobs to help support non-commercial, educational broadcasting.
On Tuesday of Auction week in May, producer Bruce Beale paired me with Joel Rubin, then a newsman with WAVY-TV, as co-host of a three-hour segment. I guess I passed the audition, as I ended up being on every night for the rest of the week as either a board auctioneer or a co-host. I found talking to a television audience to be a natural thing for me, and auction week was one long adrenaline rush.
My real job at the time was being assistant manager of the Janaf branch of United Virginia Bank. I had entered that bank's management training program in 1981, and was still learning the ropes, assuming that this stint in the 9-to-5 corporate world was destined to be short term, not really a career.
My first love was music, as it had been since my priorities shifted from sports in the latter half of my teens. Having spent time as a starving artist in New York City in the late '70s, I now found myself back home playing solo, alone with my guitar in small bars and restaurants and singing in a few outdoor festivals. Every Tuesday night was open mike night at Cogan's for beers and camaraderie with other local players.
I was still trying to write meaningful original songs, and I sprinkled them into the repertoire amidst the mandatory Jimmy Buffett and Neil Young covers, acoustic versions of Springsteen's "Prove It All Night" and "Message in a Bottle" by The Police, some '50s rockabilly and '60s soul, with a bit of Dylan and Woody Guthrie thrown in. Recent originals included "When the Sirens Blow," "Aging Gracefully" and "Faceless Boyfriends."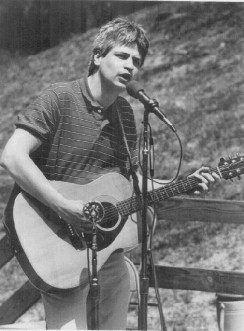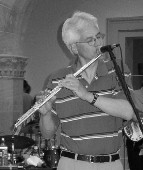 I was 31 years old, worried that I was getting too old to make my dreams come true, uncertain about what roads to take. Now, looking back with the 20-20 hindsight of 20 years of life, I am amazed to discover that all the pieces were in place for who I would become.
Today, I am still a banker in my day job. When I was a management trainee, I joked about becoming a "big cheese." And, in spite of myself, I guess that's what I have become, as senior vice president with Old Point National Bank.
I'm still writing, though not about auction items that would "look great with any décor." As regular readers of this magazine may know, my writing these days primarily takes the form of articles here in Port Folio Weekly, mostly about music.
A couple of months ago I celebrated my twentieth anniversary on air with WHRO-TV and radio. I am known locally as "the guy on WHRO," and have been in the box in your living room seeking your support for quality on the airwaves longer than nearly all the employees and volunteers there. I've worked with many producers, studio crew members, and outlasted most of the station's grand poobahs. The Auction ended in 1991, and my run as host of It's Academic, the successor to Tidewater Challenge, ended the same year, but pledge drives, cooking specials and music shows continue to keep me busy in public broadcasting.
And music remains my passion. These days it's jazz, playing flute, guitar and vocalizing with my Quartet, Trio and in a duo with trumpeter Ron Hallman. We have two newly recorded CDs available---the Jim Newsom Quartet's Harborfest 2003, and the duo's Singin' on Granby Street.
In 1977, I wrote a song called "A Thousand Monday Mornings," which included these lines in the refrain: "A thousand Monday mornings only age you twenty years; Twenty years ago, you had no idea you'd be here."
Sounds like the words of a prophet!