---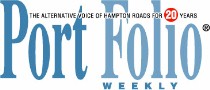 PortFolio Weekly
February 10, 2004
jazzscene: The Best of the Best
by Jim Newsom

This year's Ella Fitzgerald Jazz Festival at Christopher Newport University may be the best yet. Set for April 28-May 1, the festival's three headliners are about as good as you can get in the jazz world these days. I am genuinely excited about the lineup, and the venue, the intimate 400-seat Gaines Theatre on the CNU campus, is a wonderful place to see and hear great jazz artists up close, almost like having them in your living room.

On Thursday, April 29th, bassist Dave Holland brings his critically acclaimed Quintet to town. His group, including trombonist Robin Eubanks, vibesman Steve Nelson, saxophonist Chris Potter and drummer Nate Smith, is considered by many (including me) to be the best working band currently playing acoustic jazz in the world. Their Not For Nothin' was on my "20 Best of the Last 20 Years" in this magazine last year, and their most recent release, a live recording called Extended Play, was at the top of many critics' and listeners' lists for 2003. Port Folio Weekly editor Tom Robotham caught Holland's quintet live in New York last month and was totally blown away.

On Friday the 30th, the most important and influential saxophonist of the last 30 years comes to CNU in the person of Michael Brecker. I'm not sure who'll be in his quartet that evening, but with an artist of his caliber it doesn't matter. His last recording, the large ensemble Wide Angles, was among my choices for the best of 2003, and he's played in every type of musical setting with literally everyone who is anyone.

20-year old singer Peter Cincotti wraps up the festival on May Day in a concert that is already nearly sold out. CNU has managed to bring hot young singers in the past, like Diana Krall and Jane Monheit, and Cincotti is well on his way to establishing himself in the same ranks. Discovered by Harry Connick, Jr., this young Sinatra-phile is not only a great singer, he was one of People magazine's "sexiest men of 2003."

Tickets are $35.00 each and are available at the CNU box office, or by calling 594-8752. But you better hurry. With a roster this strong, those who wait will be out of luck!

- -

Charlottesville jazzman Robert Jospe, whose Time to Play achieved national prominence and was among my top picks of 2003, has just returned from a Hawaiian tour with his Inner Rhythm quintet. His eagerly anticipated new CD, Hands On, is due out next week, and he and the band are tentatively scheduled to be in our area this spring.

Speaking of new discs, Russell Scarborough has just released a recording called Russell Scarborough Presents…Tim McDonald. Along with bassist Dave Hufstedler, drummer Scarborough and pianist McDonald have put together an interesting mix of tunes, including a rampaging romp through Beethoven's "Fur Elise," a whimsical chase of "Three Blind Mice," and several originals. You can catch the threesome at Central 111 in Virginia Beach every Sunday night, and pick up a copy of the CD there or at your favorite local record store.

An older album you may not have in your collection is Special Ones by a quartet of local jazzmen calling themselves Co-Op Venture. As you might imagine from their chosen name, this is a musical cooperative made up of pianist John Toomey, saxophonist Eddie Williams, bassist Jimmy Masters and drummer Howard Curtis. They recorded the disc back in November of 1994 during a performance at the Chandler Recital Hall on the campus of ODU, and it's a beaut. The quartet has reunited under this moniker and returns to the scene of the crime on Thursday, February 26th, with an 8:00 show at Chandler performing mostly original music. I'm looking forward to hearing what they have up their sleeves this time around, and hope we can see more of them in coming months.

Saxophonist Charles Peterson and Against All Odds are playing at Crabbers on Mercury Blvd. in Hampton for an early evening gig next Tuesday night, the 17th. Friday the 20th finds them at the Alley in Newport News and the next evening they're on the Center Stage of Waterside.

The region's own Sinatra/Connick disciple, Charles Darden, is singing at Harry's Tavern in Ford's Colony every Friday night this month with pianist Harris Simon, bassist Ken Harmon and Howard Curtis. He's also at the Chrysler Museum on Wednesday, March 3rd.

Others at the Chrysler's Wednesday Jazz series in the coming weeks include Swing Time with Tim McDonald this week, Ra Jazz on the 18th, and saxophonist Reggie Gist on February 25th.

Guitar master Woody Beckner has the steadiest gigs in town, fronting his group every Friday night at Kincaid's in MacArthur, and doing the duo thing on Saturday nights at Brutti's in Olde Towne Portsmouth.

copyright © 2004 Port Folio Weekly. Used by Permission.
---