---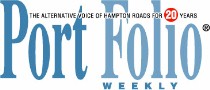 PortFolio Weekly
February 3, 2004
Here Comes the Hot Club
by Jim Newsom
Django Reinhardt was the first guitar hero of jazz. Having grown up in a gypsy camp outside of Paris, he taught himself violin and guitar while absorbing the sounds and musical styles of the gypsies. A caravan fire in 1928 left him without the use of the last two fingers on his left hand, but he worked out his own fingering system and developed a unique acoustic guitar style, merging his influences with the American jazz he heard on 78 rpm records, playing in the cafes of Paris.
In 1934, he and violinist Stephane Grapelli formed a jazz group to perform at the Hot Club, and for the next five years the Quintet of the Hot Club of France produced some remarkable music, developing an international reputation with the leaders' searing solos sailing atop a rhythmic foundation of two guitars and standup bass.
The Hot Club sound has been influential across the decades. Ironically, one of its most ardent admirers was Bob Wills, who blended the quintet's gypsy swing with a big band horn section and country & western peddle steel to popularize western swing with his Texas Playboys in the late '30s and '40s. Later groups like Dan Hicks and His Hot Licks and Asleep at the Wheel owe musical debts to Reinhardt, Grapelli and company.
These days a number of regional Hot Club bands pay tribute to this music. One of the best is the Hot Club of San Francisco. Formed thirteen years ago by guitarist Paul Mehling, the HCSF uses the same all-string instrumentation of the original Hot Club quintet to conjure up the spirit of 1930s Parisian jazz clubs while updating the sound with their own original compositions and surprising playlist additions like a swinging take on George Harrison's "While My Guitar Gently Weeps."
This Saturday night, the Hot Club of San Francisco performs at the American Theatre in the Phoebus section of Hampton. The show starts at 8:00 pm, but the bandmembers will be on hand to discuss their music and chat with the audience an hour earlier. If the group's recordings are any indication, this will be a concert worth checking out. The group's blend of guitars, bass and violin sounds as fresh and intoxicating today as it must have seventy years ago in gay Paree.
Tickets are available at the American Theatre's box office, by phone at 722-2787, or online at www.theamericantheatre.com.
copyright © 2004 Port Folio Weekly. Used by Permission.
---