---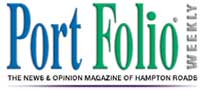 PortFolio Weekly
July 1, 2003
The People's Choice
by Jim Newsom
They're an American band. They're coming to our town, they'll help us party it down. They're an American band!
Grand Funk Railroad is coming to Newport News to celebrate the fourth of July. The band, whose best known song, 1973's "We're an American Band," is still a staple of classic rock radio, will headline the "Stars in the Sky" celebration taking place that evening in downtown Newport News' Superblock Park. Sam Moore (one-half of Sam and Dave) will open for them starting at 7:00 pm.
It's been a long time since Grand Funk first rocked its way into our collective consciousness. The band played for free at the Atlanta Pop Festival over the July 4th weekend in 1969, and within two months their first album, On Time, had been released by Capitol Records. By November, it was on the charts, discovered by the "underground" FM radio stations of the day. In January '70, Grand Funk (the red album) was released, followed in June by Closer to Home, the band's first top ten LP, featuring "I'm Your Captain." From there, the band was off on a five-year ride at the top of the rock world.
The band consisted of three guys from Flint, Michigan---Mark Farner on lead vocals and guitar, Don Brewer on drums and vocals, and bassist Mel Schacher. Farner's father worked in the GM factory in Flint, Brewer's dad had an oil distribution business, and Schacher's father worked in the tool and die shops that supplied General Motors. Farner and Brewer had played with Terry Knight and the Pack, while Schacher had been a member of Question Mark and the Mysterians ("96 Tears").
I spoke with Don Brewer last week from his home in Florida, and asked him about those early days.
"It was a whirlwind time," he remembers. "We did two tours and two records a year for that whole time from 1969 to 1976. You'd go out and promote a record for 40 shows on the road, take a week off, go right back into the studio and start rehearsing for the next record. Never a break, it was a way of life.
"Actually, we loved it. It was a very creative time period. FM radio was so friendly to bands and new ideas. It was totally wide open."
At first, Grand Funk was snubbed by the critics, especially those in Rolling Stone magazine. Though their records sold millions and their fans packed their concerts (selling out Shea Stadium in 1971 faster than The Beatles had), critical respect eluded them. Much of that was due to the mega-hype promotion by Terry Knight, the former bandleader whom they'd enlisted to manage GFR.
"He wanted that kind of rub with the critics because he didn't care," says Brewer. "He was of the philosophy that any publicity was good publicity. He wanted everybody to think that he was the puppeteer. That's where another rub came with the critics. They thought we were a purely manufactured, Terry Knight commercial thing."
In reality, Mark, Don and Mel were on a mission that they had laid out for themselves, to blend the soul music and rhythm & blues they loved into a festival-friendly, power trio format.
"We saw Cream and Hendrix and Blue Cheer doing a hard rock thing with blues. We weren't a blues band. We were an R&B band. We said, 'We can do that.' We stripped down to a three-piece, cranked the volume up, played with this new late-'60s attitude and it was a unique combination."
The threesome endured an acrimonious split with Knight when they fired him in 1972, resulting in multiple lawsuits. However, they hired a new manager, added keyboard player Craig Frost, and entered their most successful period. Todd Rundgren produced the 1973 album, We're an American Band, which yielded their first number one hit, the disc's title track. Although guitarist Farner had written most of the band's original material, Brewer wrote this one.
"Andy Cavaliere, our manager, said, 'You guys are out here being picked up in limousines, partying in hotel rooms, why don't you just write about what you do?'" he recalls. "So I went home and said, 'OK, we were up all night last night with Freddy King playing poker. 'Sweet, sweet Connie' was a fixture of the rock and roll business at the time. She was introduced to us at a show in Little Rock, Arkansas. And the 'four young chiquitas in Omaha' was another situation where we met four girls who were waiting in the hotel lobby. But all of the stories were embellished to work for the song."
"We're an American Band" captured the high spirited hedonism of the rock world at the time, and was ubiquitous in the summer of '73. More hits followed over the next two years, with "The Loco-Motion" hitting the top spot on the charts, and "Some Kind of Wonderful" and "Bad Time" also cracking the top five. But by 1976, the train ride was braking into its final destination.
Brewer and Farner reformed Grand Funk briefly in the early '80s with a different bassist, but Farner decided to go solo, performing contemporary Christian music for a while. Brewer joined Bob Seger's Silver Bullet Band. The original trio reunited in the mid-'90s, but Farner ultimately chose to go out with his own Mark Farner Band. So Brewer and Schacher recruited new blood, and have been at it for the last three years with a retooled engine.
These days, the drummer and bassist are joined by singer Max Carl of 38 Special; guitarist Bruce Kulick, who spent twelve years with Kiss; and former Bob Seger sideman Tim Cashion on the keys.
"They know what it takes to make this R&B/Rock combination which is Grand Funk," Brewer explains. "Max is one of the best blue-eyed soul singers on the planet. We do a real high energy Grand Funk, all-hits rock and roll show. If it's not really a hit, we make sure it's a showpiece like 'Inside Looking Out,' which is a place for the guitar player to just fly.
"We have a good time doing it. It's a lot of fun to run around onstage and act like a lunatic."
And, Grand Funk finally got its due from Rolling Stone. In his review of the Capitol reissues of the band's catalog this spring, writer David Fricke wrote, "For a time, Grand Funk were the people's choice. And the people were right."
copyright © 2003 Port Folio Weekly. Used by Permission.
---