---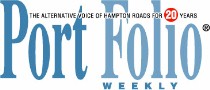 PortFolio Weekly
June 1, 2004
The Main Squeeze
by Jim Newsom
"I'm standing in my bedroom window," Glenn Tilbrook tells me over the phone from London. "I'm looking out onto the Thames, and in the Dome, which is about a mile away from me, Paul McCartney rehearses for his world tour. And every so often, the sound drifts over to my house.
"McCartney wafting over…It's quite surreal, actually."
The former Beatle has rented London's controversial Millennium Dome to put his current band through its pre-tour paces, and the neighbors are complaining about the noise. Glenn Tilbrook isn't complaining, but there is a delightful congruity in the "wafting" comment: Once upon a time, Tilbrook and his songwriting partner Chris Difford were being hailed by rock music critics as "the next Lennon & McCartney" for the songs they were writing for their band, Squeeze.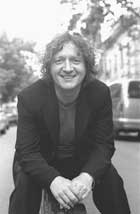 "We set out to write songs that we liked, influenced by the people that we loved," he recalls, "and Lennon-McCartney were certainly some of those. When we started writing, we just copied nearly everyone that we listened to. You very unselfconsciously imitate the things you like until you get good enough to pull away from imitating and start doing your own thing.
"I'm a real sucker for bands like the Cowsills and all that sort of sloppy pop music. That never got here. You know…Spanky and Our Gang. That didn't translate at all. I used to get Tiger Beat, because I was always infatuated with America, and I used to read about all these bands I had never heard."
Tilbrook, who comes to the NorVa Saturday night in support of his new solo CD, Transatlantic Ping Pong, had a pretty good run as lead vocalist and guitarist for Squeeze. Albums like Argybargy, East Side Story and Sweets From a Stranger brought them considerable success in their native land, and created a larger-than-cult following in the U.S in the 1980s. Their biggest American hits were "Hourglass" and "853-5937" in 1987, but their best known songs are probably "Tempted" from East Side Story in '81 and "Black Coffee in Bed" from Sweets the following year.
"We've had our share of success," he says, "and a far longer period of not being commercially successful. I think that if that were the criteria I judged my career on, then I would be depressed, there's no doubt about it. But luckily, that's not the way that I judge it.
"I know that some of my very best work throughout my entire career as a writer has not sold well, and some of my very worst work has," he laughs. "Of course, I would love to be an internationally famous, well respected rock person with a following in the millions. But I'm not, and I'm not going to lose sleep over it. The important thing to me has always been that I like what I do, and I get off on it. That's the overall reason why I do it. I love making music. I love everything to do with it. In my own mind, I keep on getting better and better."
For the last three years, Tilbrook has been going it alone.
"It's interesting," he relates. "Squeeze sort of tailed off touring. Chris didn't enjoy it nearly as much as I did. You can only tour as much as the person who doesn't want to tour much can tour.
"When I released The Incomplete Glenn Tilbrook in 2001, I made my mind up that I was going to do a lot of touring, both in the U.S. and the U.K., and go to places that I hadn't been before or hadn't been with Squeeze for a while, and just give everyone a go. I said to myself that really, I'm starting over again. I don't mind starting over again. Luckily I've got the energy to do it and I've got the determination to do it and I think that if people see me, they'll like what they see and hear."
The new album is very much a continuation of the wide ranging repertoire Tilbrook created with Squeeze, but with a contemporary sheen to it. Song titles like "Hot Shaved Asian Teens" and "Genitalia of a Fool" show that he has retained the cheeky wit for which he and Difford were known, while some of the songs appear to come from more personal sources. "Domestic Distortion" is a heartbreaking McCartney-goes-to-Nashville ballad of a father reuniting with his long estranged grownup child. The tale of lost friendship told in "Ray & Me" certainly sounds like a true story. "Lost in Space" recalls Stevie Wonder's mid-'70s classics, and "Neptune" has the same soulfully melodic form as much of the Squeeze catalog.
The disc's title refers to the fact that half the songs were recorded in London and half in Nashville. And there's a healthy sampling of pedal steel guitar on some of the tracks. But it's the London band that he's bringing with him to the NorVa Saturday night. They'll be mixing in tunes familiar to long-time Squeeze fans with stuff from the two solo recordings.
"I don't draw a line between Squeeze and what I'm doing now," he says. "As far as I'm concerned, it's my life and career and I'll dip into any part of it."
He and his former songwriting partner still stay in touch. ("We're just on opposite sides of the River Thames. At the moment, he's managing Bryan Ferry.") But these days, Glenn Tilbrook is content to be out on the road playing his music and enjoying every minute of it.
"I take music and songwriting very seriously. But I don't take myself very seriously. There's a lot about the business that just makes me laugh. So what I'm trying to do is to strike a balance between those two things. I work very hard at what I do, but I think that I'm able to retain a perspective on the whole thing. It's very important to be able to laugh with things and retain a sense of humor about yourself. If not, I'd have been suicidal ages ago."
copyright © 2004 Port Folio Weekly. Used by Permission.
---