It's July, 1961, and Gary U. S. Bonds has the number one hit in the United States, a raucous slice of party-time rock and roll called "Quarter to Three." He's just celebrated his 22nd birthday, and the Norfolkian, whose real name is Gary Anderson, is on top of the music world.
"Quarter to Three" is the summertime fun song, resting comfortably above Ricky Nelson's "Travelin' Man," Ben E. King's "Stand By Me," Chubby Checker's "Let's Twist Again" and "Tossin' and Turnin'" by Bobby Lewis.
Just a few years earlier, Gary Anderson had been going to Booker T. Washington High School, and singing with his buddies on a street corner in the Brambleton section of Norfolk.
"We used to stand out in front of Boone's Market by the mailbox," he recalled in a recent interview, "and me and the boys would stand around and sing. Then Mom would take us on the back porch where we had an old raggedy upright piano."
Gary was just two years old when his mom, Irene, a piano teacher, moved with her son to Norfolk from Jacksonville, Florida, following a divorce.
"Back in those days, you formed a gang---not like the gangs they've got today. We just got together and called ourselves a gang, had a little clubhouse. We'd sit around and talk about the things that we would do if we were a real gang."
The four guys and one girl called themselves the Turks, and harmonized to the songs of the Flamingoes, The Drifters, and the other doo-wop groups of the late '50s.
"Frank Guida came by one day," he continued, "saw us and said, 'Hey guys, I'm gonna open up a recording studio in a couple of years. Would you be interested in recording for us?' Of course, we said, 'Sure, why not?'"
True to his word, two years later Guida had opened up his studio, and he came back to find the young singing group. At that point, Gary was the only one still in town, his buddies having joined the armed services or moved away, but Guida invited him down to the studio on Church Street.
"A guy named Joe Royster, who worked, I believe, at Fluorsheim Shoes on Granby Street, wrote this song called 'New Orleans.' It was a country and western song. Frank said, 'Do you think you can work with that?' I said, 'I don't think I can work with it the way it is,' so I took it home and we banged it out on the piano the best we could and said, 'Let's record it.'
"The studio had a two-track recorder. He put up some soundproofing on the walls. We just went in there and did what comes naturally. He invited a bunch of guys over and some girls, and we just kind of yelled and screamed until we finally got it. There was no pressure---we had absolutely nothing to lose."
When the record came out, young Gary Anderson was in for a big surprise.
"I heard it on Jack Holmes' show. We were sitting on the porch one day, and all of a sudden…'Here's a new one from a homeboy right here in Norfolk, Virginia---Gary U.S. Bonds!' He started playing it and I went, 'Wait a minute, that's mine! Somebody stole my song!'
"That's when I realized my name had changed."
He wasn't particularly enamored of his new moniker at first----"I thought it was a pretty lame name"---but soon learned to embrace it.
"I hated that name until I got the first check," he laughed. "Then I said, hey, that's not too bad. I can live with that."
"New Orleans" did not immediately burst into the national consciousness.
"Most of the DJs around the country wouldn't play it because they said the sound was inferior," he said. "Then Dick Clark picked it up on American Bandstand and played it twice in one day. All of a sudden the other DJs said, 'You know, that's a pretty cool record.'"
"New Orleans" went on to hit the #6 spot on Billboard's Hot 100 in 1960. But the newly christened Gary U. S. Bonds didn't immediately go out on tour.
"I think one of the reasons was they thought it was a white guy singing it. So we decided to just keep low."
When "Quarter to Three" came out the following year, Gary U. S. Bonds was already a known name on the pop charts.
"By then, I'd gotten a little process, had my hair slicked back, and they lightened up the picture. Then I looked like a white guy. They weren't sure what I was."
As "Quarter to Three" perched atop the charts, the young singer went out on his first tour. His first gig was at the Howard Theatre in Washington, DC.
"I worked with Ruth Brown and Laverne Baker, Sam Cooke was headlining and B. B. King was on the show. Ruth calmed me down and said, 'All right boy, let me teach you how to act out here.' I was as green as a Christmas tree. Ruth said, 'Just relax, go out there and do what you do. You talk up a storm any way. Just do some of that on stage.'"
A few months later, Bonds found himself on a three-week tour of England with Roy Orbison and Gene McDaniels. Their backing band was a group of young musicians who were just two years away from changing the whole pop music game---The Beatles---John, Paul, George and original drummer Pete Best.
"That was the band they gave us," he said, "We went out with them for a week around London. They were absolutely horrible. We fired 'em when we got back to London. Then they hired another band that was even worse."
Bonds chuckled at the memory: "We can truthfully say we hired and fired the Beatles."
But that's not all. "They gave me a demo to bring back. Frank [Guida] threw it in the garbage can. It was pretty bad."
Gary U. S. Bonds had three more top ten hits---"School is Out" in 1961 and "Dear Lady Twist" and "Twist Twist Senora" in '62. By then, Guida's "Norfolk Sound" formula was beginning to lose some steam, and the hits stopped coming. Bonds was ready to change, to try something different---"I was ready to grow and they weren't," he says.
So he left the recording side of the business, moved with his wife Laurie to New York, and began playing the club circuit. He says he was always working, always busy, though "it got a little slow" during the disco era.
One night in 1978, he was working in a club in New Jersey. The owner came up to him and told him there was a guy in the audience who wanted to sing with him.
"I thought, that'll be cool, give me a chance to take a break, grab a beer at the bar. He said the guy's name was Bruce Springsteen. I said, 'Cool. Weird name, but I'll bring him up.' I didn't have a clue who he was.
"So I went up to the mike and said, 'Ladies and gentlemen, we have a real fine guest out in the audience. I'd like to see if we can get him up to sing a couple of numbers with us. How about it for Bruce Springsteen!
"When I said that, the crowd went wild. Everybody started coming towards us and I went, 'What the hell is going on here?' The people were jumping up and down and I'm thinking, 'Who is this guy?'"
Springsteen joined Bonds onstage that night, and they sang together for over an hour. Springsteen invited Bonds to join him onstage the next week, and the two became friends, as Springsteen made "Quarter to Three" his regular encore.
"A couple of years later," Bonds said, "he said he had written a song called 'Dedication' that sounded so much like me, would I be interested in going to the studio and doing it with him. I went, and he said, 'You just sing it.' Afterwards he said, 'You want to do some more?'"
That was the beginning of Gary U. S. Bond's early-'80s comeback. Over the next couple of months, the two recorded the album, Dedication, with the assistance of Springsteen guitarist Steve Van Zant. In 1981, Gary U. S. Bonds was back on the pop charts with "This Little Girl" from that LP.
Besides being a successful performer, Bonds has done well as a songwriter. He wrote the lyrics to "Quarter to Three" and "School is Out," and in 1970, a song he wrote called "(Don't Take Her) She's All I've Got" was a big country hit for Johnny Paycheck. Twenty-six years later, Tracy Byrd took a remake to the top of the country charts.
I asked how it felt to be a member of the first class inducted into the Legends of Music Walk of Fame in his hometown. While acknowledging his excitement ("Think about it---Ella Fitzgerald and Gary U. S. Bonds---it doesn't even sound right!" he said), he also recounted a story he rarely shares with anyone.
"When I left, they wanted to lock me up. Now they want to put me on the Walk of Fame."
When I asked what he was talking about, he hesitantly told me what happened:
"It was the times, and I was sort of cocky. They didn't like that in Norfolk. I realized it was time to leave when they locked me up for hitting a dog. And there wasn't even a dog involved. They gave me six months for hitting a dog, an imaginary dog.
"I had just bought this yellow Cadillac. And I'd just bought a house in Green Hill Farms, which was a no-no. I moved into this house and that's when it all started. We were on our way to the studio at Sewell's Point. I turned the corner and just past a house, a lady jumped out into the street and started screaming about her dog. I thought, is she talking to me? Then I see the police coming around the corner, so I back up and I go, 'Where's the dog?' She points to her backyard. I got out to see if I could find the dog. If he's hurt, I'm gonna take him to the hospital or something.
"When I get back there, the police say, 'All right, put your hands in the air.' They locked me up.
"When we get to court, the judge says reckless driving and something else. My lawyer said don't worry about it, they'll take care of it. They sure did. Next thing I know I was on the farm."
He actually spent six days incarcerated on "the farm" before being released. Sadly, that incident prompted Gary and his wife to sell their home and move to New York, where they've lived for over thirty-five years.
But on Wednesday, September 25th, Gary U. S. Bonds will happily return home to join his old friend Ruth Brown and the other music giants being inducted into the Legends of Music Walk of Fame. He will perform some of his hits that evening at the Roper Center for the Performing Arts.
"We'll have a lot of fun," he said.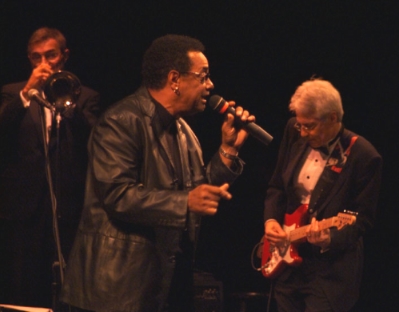 copyright © 2002 Jim Newsom. All Rights Reserved.