---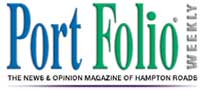 November 19, 2002
Poetry in Music
by Jim Newsom
Art Garfunkel is coming to town!! The man with the angelic voice, whose pure, high tenor was an integral part of the soundtrack of the '60s, will perform at the Roper Center for the Performing Arts Wednesday night at 8:00 pm.
Believe it or not, Artie is on tour promoting a new album, and it's the first time in his lengthy career that he's written the songs he's singing. The CD, Everything Waits to be Noticed, is a collaboration with two other musician/vocalists, Buddy Mondlock and Maia Sharp. The first single, "Bounce," is getting a lot of radio airplay, and the project is getting rave notices all around the world.
The story of how these three came together is worth telling: Producer Billy Mann had just written "Bounce" in London with Graham Lyle, and he envisioned Garfunkel's voice singing the lead. So, although the two had never met, Mann called the singer in New York and played the song over the phone. Garfunkel was impressed. Then Mann pushed his luck and said he knew two other singers with whom he'd create a great harmonic blend---Mondlock and Sharp.
Art Garfunkel had never heard of either one of them, but he told Mann about his own poems: "That would be such a big thing in my life, if those poems could be turned into songs. You got me, if you could do that."
Mann then contacted Mondlock, who found a copy of Garfunkel's book of poetry, Still Water. Mondlock set the poem, "Still Water," to music, and the producer brought the three performers together in Nashville to see what would happen. It turned out to be the beginning of a fruitful musical relationship.
Everything Waits to be Noticed harkens back to the glorious sound of Simon & Garfunkel, yet coats the sweet vocal harmonies in a modern, 21st century sheen. The title track could have been lifted off S&G's first album, Wednesday Morning 3 A.M., while "How Did You Know" recalls the vocal blend of The Association in their late '60s heyday. The trio's arrangement of Mondlock's "The Kid" kindles memories of "Homeward Bound," and "The Thread" takes us on a wistfully lyrical journey through Garfunkel's hometown of New York City.
The concert at the Roper will begin with short solo sets by Mondlock and Sharp, then segue into a lengthy journey through Garfunkel's musical history. You can expect a pleasing blend of old and new---"Sounds of Silence," "Bridge Over Troubled Water," and "Mrs. Robinson" interspersed with songs from the new CD. In addition to singing, Mondlock plays guitar and Sharp blows some haunting soprano saxophone. The Salt Lake Tribune said that Garfunkel "sang the old favorites with such feeling that they seemed fresher than ever," while the new material "showed that Garfunkel is not just resting on his laurels."
Buddy Mondlock and Maia Sharp are accomplished songwriters and performers in their own right. Mondlock's songs have been recorded by Garth Brooks, Janis Ian, Joan Baez and Peter, Paul & Mary. The 31-year old Ms. Sharp, daughter of Nashville songwriter Randy Sharp, has a scrumpscious new disc out on Concord Jazz, and wrote the title track of the new Dixie Chicks' latest release, Home.
But it's Art Garfunkel who'll be drawing the crowd to the Roper Wednesday night. And Art Garfunkel who'll transport that crowd back to their youth through the timeless songs he sang with Paul Simon, then bring them home again with the magnificent music from Everything Waits to be Noticed.
---
Simon & Garfunkel -
Live From New York City, 1967 (Columbia/Legacy)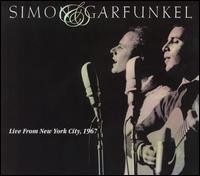 Oh, the times were different in January, 1967, when Simon & Garfunkel were recorded live in concert at New York's Philharmonic Hall. The optimism of the younger generation had not turned into the cynicism and selfishness that would come too soon. The fiery end of the civil rights movement's non-violent era was a year and a half away, as were "the whole world is watching" demonstrations of the 1968 political conventions. No, the air in January, 1967, was full of possibilities and music still had the power to move the masses in a powerful, positive way.
Stripped of studio overdubs and commercial arrangements, Simon & Garfunkel were at their best in live performance--- the two voices tuned in perfect harmony floating over the chordal waves of Paul Simon's acoustic guitar. These songs stand all by themselves, without gimmicks or flash, their lyrics wrapped in irresistible melodies, Artie's softly soaring voice blending with his partner's to produce a uniquely singular sound.
This just-released recording documents one night in the life of Simon & Garfunkel, performing in their hometown the songs from their first three albums. The early hits are here- "The Sound of Silence," "Homeward Bound," "I Am a Rock," "A Hazy Shade of Winter." There's Simon's paean to the era, "The 59th Street Bridge Song (Feeling Groovy)" and superb album tracks like "Sparrow," "The Dangling Conversation," and "Wednesday Morning, 3 A.M."
Listening to this, I'm a teenager again, anything is possible, and the future knows no bounds.
copyright © 2002 Jim Newsom. All Rights Reserved.
---
RELATED ARTICLES:
"Reinventing Art Garfunkel"
Veer Magazine
June 15, 2014
Artie's back in town.
---