---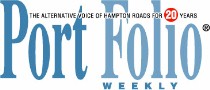 PortFolio Weekly
September 2, 2003
Fall Arts Preview: Music - Jazz
by Jim Newsom
Legends of Music Concert
September 23
Roper Center for the Performing Arts
Norfolk
Last fall's induction ceremony and concert was one of the highlights of the year, showcasing live performances by Bruce Hornsby, Gary U.S. Bonds and Tommy Newsom along with tributes to Ella Fitzgerald, Ruth Brown and others. The second batch of all star honorees whose roots were in Hampton Roads will be announced next week, with the show set for Tuesday the 23rd. Considering the high quality of last year's event, we have high hopes for this year's to-do. Plus, the price is right---free! Tickets will be available after the inductee announcement next Monday, September 8th, at the Virginia Arts Festival ticket office in MacArthur Center.
Jazz on Granby
Maria Muldaur
October 4
Roper Center for the Performing Arts
Norfolk
Ms. Muldaur's latest CD, A Woman Alone With the Blues, is a magnificent tribute to the late Peggy Lee, putting her own jazz sensibilities on display while honoring one of the great vocalists of yesteryear. It's one of the best jazz discs of the year. Her setlist for the Roper show will draw heavily from that album, but we can expect to hear "Midnight at the Oasis" and a few of her other classic '70s cuts as well. The years have been very kind to her voice, and her playful sensuality captures the spirit of Ms. Lee's material perfectly.
Tim Hagans with the John Toomey Trio
November 10
Chandler Recital Hall
Old Dominion University
Norfolk
Trumpeter, arranger and composer Hagans worked in the big bands of Stan Kenton and Woody Herman in the '70s. He played and recorded with Joe Lovano, Gil Evans and the Yellowjackets in addition to releasing a fine series of Blue Note recordings in the 1990s. Although he's usually thought of as a hard bopper, Animation-Imagination from '99 conjured up the spirit of Miles Davis' Bitches Brew period. It will be interesting to see what direction he and Toomey choose to go at ODU.
Jazz on Granby
Marc Copland Quartet featuring Randy Brecker
November 14
Roper Center for the Performing Arts
Norfolk
The trumpet and flugelhorn playing half of the Brecker Brothers, Randy has been a force on the music scene since being an original member of Blood, Sweat & Tears in 1967. He is one of the best of his generation, covering a wide range of stylistic ground, from straightahead to fusion to Latin. Pianist Copland is less well known but is highly respected in the jazz world. His harmonic sensibilities and sophisticated musical ideas should assure a first rate evening of instrumental jazz.
copyright © 2003 Port Folio Weekly. Used by Permission.
---