---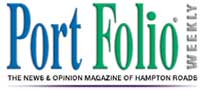 February 25, 2003
Recordings: Dylan and Weather Report
by Jim Newsom
In the collective mythology of today's pop culture, the 1970s were the Brady Bunch, disco, faceless corporate rock, smiley faces and "have a nice day." But if we search our foggy memories, those of us who were actually there may recall a few more substantive items: Springsteen's working class rock extravaganzas, Paul Simon's grown up musical reflections, Stevie Wonder's remarkable string of superb albums, the adventurous explorations of jazz fusion's pioneers, the pianistic soul searching of Keith Jarrett and McCoy Tyner.
Two of the most interesting musical artists of the decade were Bob Dylan and Weather Report. Although their only obvious connection was the record company for whom they recorded, the two were also linked in their desire to push boundaries, take chances and discover uncharted territory inside their artistic souls.
Dylan entered the decade floundering a bit. After being the "voice of a generation" through most of the '60s, he released the relatively insubstantial Self Portrait and New Morning back-to-back in 1970, then entered a dry spell that produced no new music for four years. He reemerged with the quickly slapped together Planet Waves in early '74, rediscovering his muse and reenergizing his performing self on a subsequent tour with The Band (captured on the live album Before the Flood).
With the masterfully mature Blood on the Tracks in early 1975, Dylan looked like he was back in the saddle. That summer, he began assembling a new band. After recording the songs that would become Desire when released in January, he hit the road with a self-described "gypsy caravan" of friends and musicians dubbed the Rolling Thunder Revue that included folk icons Joan Baez and Roger McGuinn, plus a vanload of guitarists and electric violinist Scarlet Rivera. Poet Allen Ginsberg was among the non-musical entourage along for the ride.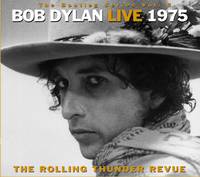 That initial six-week tour of small theaters lasting from late October into early December is finally documented on the recently released Bob Dylan Live 1975 (Columbia Legacy). It's a tour de force, the guitar army firing up its leader, who spits out the words to songs then old and new with the passionate urgency of renewal and rediscovery. The vocal harmonies are ragged, and the multiple guitars sometimes get in each other's way. But there's real power here, both poetic and electric.
In the middle of the set (the second half of disc one, first half of disc two), Dylan stands alone with his acoustic guitar. This is the heart of the evening, the solo versions of "Mr. Tambourine Man," "Simple Twist of Fate," "It's All Over Now, Baby Blue," "Love Minus Zero/No Limit" and "Tangled Up in Blue" reminding us of why we cared about Bob Dylan in the first place. His duet with Ms. Baez on "Blowing in the Wind" takes us back to the pre-Vietnam, pre-Beatles folkie days when they and we were so young and idealistic.
If you remember the mishmash of Hard Rain, the live album that accompanied a TV broadcast of the 1976 version of Rolling Thunder, you're in for a happy surprise. Live 1975 is filled with musical peaks, softly affecting acoustic passages and thunderous, lyrical rock and roll.
The founding members of Weather Report ended the 1960s inventing a new jazz music form that would be labeled "fusion" for the way it fused the harmonic sophistication and improvisation of jazz with the driving rhythms and electricity of rock, with multi-cultural seasoning from the music of other lands. Austrian-born keyboard wizard Josef Zawinul and American saxophonist Wayne Shorter played together on Miles Davis' late-sixties landmark albums In a Silent Way and Bitches Brew. Together, they joined forces in 1970 with Czech bassist Miroslav Vitous, Brazilian percussionist Airto Moreira and drummer Alphonse Mouzon to form Weather Report. The group's first two albums were of a piece with Bitches Brew and In a Silent Way, sounding like the music of a new space age.
As Zawinul and Shorter employed a shifting lineup of bandmates over the next few years, the group's music shifted towards funkier rhythms, memorable repetitious riffs and unison passages that brought them to a larger audience. Weather Report played at Chrysler Hall a couple of times in the mid-to-late '70s, putting on unforgettable shows.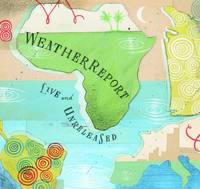 The new two-disc Live & Unreleased (Columbia Legacy) collects similar live performances from Weather Report's most popular period, 1975-1983, and presents them as one lengthy concert document. Here is Weather Report in all its glory, cooking in a funkified stew of polyrhythms, synthesizers, saxophonics and popping bass lines. Shorter's beautiful ballad, "Plaza Real" gives way to Zawinul's rambunctious "Fast City" before electric bass god Jaco Pastorius puts on a solo show with "Portrait of Tracy." Band classics like "Black Market," "Teen Town" and "Man in the Green Shirt" share disc space with Shorter's previously unreleased "Cigano" and Zawinul's classic "In a Silent Way."
Live and Unreleased spotlights the individual virtuosity and singular collective voice of Weather Report. It also reveals the individuals' occasional tendency to self-indulgence. It's a long awaited document of fusion's finest collective, a primer for those who either are unfamiliar with or have forgotten how good the genre could be back when it was fresh, new and nonformulaic.
With these newly assembled live sets, Sony Music's Legacy division continues its impressive trek through the company vaults. Joining last year's Live From New York City 1967 by Simon & Garfunkel, and an early-'60s Dylan set due this spring, these two collections recall the days when popular music knew no bounds.
copyright © 2003 Port Folio Weekly. Used by Permission.
---