---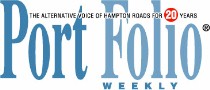 PortFolio Weekly
March 16, 2004
Voice of the Emerald Isle
by Jim Newsom
It's a busy St. Patrick's Day week for the Irish in Hampton Roads. Last Saturday brought Belfast-born flautist James Galway to town for a concert with the Virginia Symphony. This Saturday, Irish-American folk singer Cathie Ryan comes in for a 7:30 pm concert at the Virginia Beach Central Library.
Named "Irish Female Vocalist of the Decade" by Chicago's Irish American News in 2000, Ryan is the Detroit-born daughter of Irish immigrants. Her father was a tenor who was quite popular with the local Gaelic League, and she often visited her grandparents back on the Emerald Isle when she was growing up. But she also absorbed the Motown sounds of her hometown and developed an interest in the mountain music of Appalachia from friends of her parents.
After moving to New York, she spent seven years with Cherish the Ladies, an ensemble of women performing traditional Irish music. As lead vocalist for that group, she performed a mix of Gaelic sean nos and English language songs while honing her craft as a songwriter. Since going solo in 1995, both her talent and her renown have continued to grow in the world of Celtic and folk music.
Barry Graham, folk music producer for WHRV-FM, is among Ryan's coterie of fans. As folk music producer for WHRV-FM, he stays on top of trends in the traditional and roots-oriented branches of the music scene.
"Absolutely beautiful voice," he says, when asked about her popularity. "She's Irish-American, but to hear her sing in Gaelic is just mesmerizing.
"She took a major career risk when she left to go solo because they were so well known and well respected. You almost equate that with Diana Ross leaving the Supremes."
In the ten years since Riverdance first appeared on Eurovision and on PBS in the States, there has been a renaissance of sorts for traditional music from the British Isles. Graham notes that Ryan has been one of the beneficiaries of this revival:
"There's been a tremendous resurgence since Riverdance. I think for that reason, people are looking more and more at traditional Irish singers. Cathie Ryan has emerged as the star in this genre of music."
In listening to her most recent CD, Somewhere Along the Road, what is most striking is the way her music combines the traditional and the contemporary. While showing respect for what has come before, Cathie Ryan is very much a modern day songwriter and musician. Her arrangements are anything but old, even when employing fiddles and whistles. And that voice.
The Boston Globe said this: "Cathie Ryan is a thrilling traditional vocalist, but her honey-pure soprano is equally at home on probing original ballads about a woman's place in the modern world."
What better way to end St. Patrick's Day week?
For ticket reservations to Cathie Ryan's Saturday night concert, call the Tidewater Friends of Folk Music at 626-FOLK (3655).
copyright © 2004 Port Folio Weekly. Used by Permission.
---