---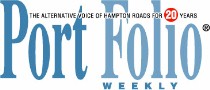 PortFolio Weekly
October 7, 2003
Peace, Love and Misunderstanding
by Jim Newsom
As Hurricane Isabel churned its way through the Atlantic Ocean toward its destructive date with Hampton Roads, Hurricane Stephen raged across the stage at the Virginia Beach Amphitheatre. When Crosby, Stills & Nash first strode out from the wings, it was obvious that Stephen Stills was mad about something. David Crosby and Graham Nash exuded that friendly hippie hopefulness that is their trademark, but their buddy Steve was on a tear.
As the show progressed, Stills' mood grew darker, climaxing in a near fight with Graham Nash over an apparent change in the setlist. At that moment, David Crosby stepped in to play peacemaker, and Nash made a quick non-explanatory quip at the microphone to move the show on.
There's no way to know what demons were eating at Stills on this Monday night in mid-September, but one can hazard a guess. While the rest of the band refreshed itself with bottled water, he continually drank from a row of red plastic cups just out of the spotlight on his side of the stage. Were they filled with whiskey, his long time choice of poison? Did that impact his mood? Is that why his voice is shot, and why he has the leathery look of an old alcoholic?
David Crosby long ago cleaned up his act and looks brighter and more in tune than ever. Graham Nash is still the clear-eyed glue that holds this whole thing together. Their voices sound great, Nash's choirboy harmonies sailing atop the vocal mix, Crosby's distinctive timbre seemingly unfazed by his years of abuse. Even Stills has that smoky bluesiness that distinguished him back in the day. He just has no range any more. And he appears to be disconnected from the proceedings going on around him.
After the opening hard rock version of Stills' "Carry On," the first half-hour of the concert seemed like the Graham Nash show. He was definitely the man in charge, and four of the next six songs were his compostions. "Immigration Man," "Marrakesh Express" and "Wasted on the Way" were delivered superbly, and "Military Madness" was especially poignant in this time of war by choice. Crosby took the crowd on a gorgeous walk along "The Lea Shore," then pulled out "Déjà Vu," still sounding as cool as it did on the album of the same name back in 1970.
Stills dipped into his back catalog for a rousing, sing-along version of "For What It's Worth," the tune that put him on the map in '67 with Buffalo Springfield. Nash's recent "Dirty Little Secret" showed why preachy songs don't work these days, but Crosby's "Almost Cut My Hair" took the crowd back to Woodstock summer. The first set closed with another audience sing-along, Stills' popular "Southern Cross."
The second set was a reminder of how many great songs this trio has given us---the wordplay of Stills' "Helplessly Hoping," the quiet beauty of Crosby's "Guinnevere," the acid-laced majesty of Nash's "Cathedral." There were new songs as well, Crosby alone with his guitar for a fine new song inspired by the Enron financial scandal, Stills delivering a passionate musical entreaty to "Feed the People."
Nash pulled out a couple of lesser known album tracks, "Southbound Train" and "I Used to Be a King," before Crosby led the tribal chant on his Bobby Kennedy-inspired "Long Time Comin." "Dark Star" and "Wooden Ships" closed the show, but the trio came back for a gorgeous "My Country Tis of Thee," then returned once more to deliver their biggest hits, "Woodstock" and "Teach Your Children."
The bevy of baby boomers and their children exited the amphitheatre high on memories and harmonies, hanging onto the dreams of yesteryear and, for three hours at least, remembering what it was like when their generation believed that music really could change the world. Hurricane Stephen brought back the reality that even amidst the flower powered optimism there was always an undercurrent of anger and self-destructiveness.
copyright © 2003 Port Folio Weekly. Used by Permission.
---