---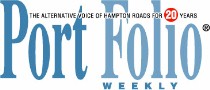 PortFolio Weekly
April 20, 2004
Recordings
by Jim Newsom
Peter Erskine / Nguyen Le / Michel Benita
E_L_B (ACT Music)
Russell Malone
Playground (MaxJazz)
The art of jazz guitar encompasses a broad range of colors, textures, sounds and rhythms. From the single note dexterity of Charlie Christian through the distinctive octave lines of Wes Montgomery into the fusion blasts of John McLaughlin and Al Dimeola to the sublime subtlety of Jim Hall, the cool melodicism of Pat Metheny and the gritty funk of John Scofield, jazz history contains a lengthy lineage of unique and creative six-string slingers.
Nguyen Le and Russell Malone represent two different corners of the genre. Le, a Parisian born to Vietnamese parents, has developed a distinctive voice over the last two decades, combining the hot licks of his fusion forebears with a hard-to-categorize world music sensibility. Malone, whose R&B-meets-bop style descends directly from Kenny Burrell and George Benson, has made his name working alongside Diana Krall and Harry Connick, Jr. Both deserve to be heard.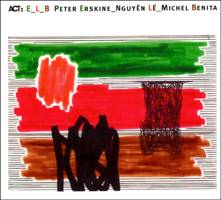 For a taste of Nguyen Le, check out E_L_B, recorded in Oslo, Norway, for the German ACT Music label and recently picked up for distribution in this country by High Note. A collaborative trio, ELB brings Le together with drummer Peter Erskine and bassist Michel Benita for a program of original material individually composed by the musicians.
If you've ever wondered what Jimi Hendrix might be playing were he still alive, give this disc a listen. No, this is not a blaring power trio outing, but it is a powerful trio, and Le is an adept and inventive guitarist. The most obvious comparison in his electric guitar sound is to Scofield, with the same dark moodiness inherent in Sco's choice of electric timbre. But followers of Metheny will hear hints of his work sprinkled here and there as well.
Drummer Erskine made his mark with Weather Report back in the '70s, and has been a sought-after journeyman for the last twenty five years. His solo projects have been textbooks in the "less is more" vein, filled with openness and delicacy. Much of E_L_B conforms to this pattern. The most beautiful song on the disc is Erskine's "Autumn Rose," its intoxicating melody played with utmost taste by Le on acoustic guitar.
Algerian-born bassist Benita is a find. The warmth and cerebral character of his playing helps give E_L_B its European ECM-inspired sheen. Though uncluttered spaciousness typifies the tracks on this disc, there are moments like Le's "Sao Sen" that pull you in with their atmospheric gentleness, only to explode with a ripping burst of electric guitar virtuosity. And the set-closing "Free At Last" is an update of Jimi's "Third Stone from the Sun."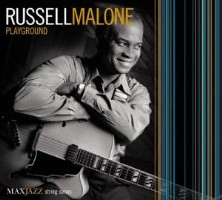 Russell Malone gets a more traditional jazz sound out of his hollow body D'Angelico guitar. Think of George Benson around the time of Breezin' and you've got a touchstone for Malone's latest outing, Playground. The opening track, "You Should Know Better," would have fit nicely on that or any of Benson's earlier pre-popstar CTI recordings.
The setlist that follows offers a nice range of material, both original and borrowed, that takes the listener from the free-form exercise of "Blues For Mulgrew" to the gone-to-the races "Sugar Buzz," where Malone chases vibist Joe Locke for the winner's circle. The title track features a gorgeous melody and fluid single note solo, while Billy Strayhorn's "Something to Live For" is taken very slow and easy.
Malone's "Mandela" brings alto saxophonist Gary Bartz in for a seven-minute modal exploration that recalls Coltrane's A Love Supreme. The slightly schizophrenic take on The Carpenters' "We've Only Just Begun" is a surprise, with both intro and outro rented from the Blues Magoos' "Never Goin' Back to Georgia" and the solo space dotted with quotes from other pop tunes. The guitarist's unaccompanied strolls through Jerome Kern and Dorothy Fields' "Remind Me" and Carole King's "You've Got a Friend" are transcendent highlights of this disc.
For outside-the-box originality, check out E_L_B. For sheer jazz delight, pay a visit to Russell Malone's Playground.
________________
Kris Kristofferson
The Essential Kris Kristofferson (Columbia/Legacy)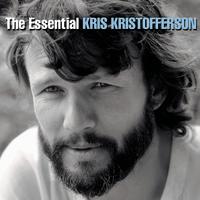 This is the job I'd like to have---keeper of the vault at Sony's Legacy division. Imagine the treasure trove of music, some well known, some probably forgotten, that must exist in there. The Columbia/Epic family of labels produced so much of the soundtrack of our lives from the '60s through the '80s, I could spend months wandering through the aisles of master tapes and outtakes.
Over the last few years, the Legacy folks have been reissuing albums in every genre, adding previously unreleased tracks, remastering them in higher resolution audio, adding new pictures and liner notes, and giving us new reasons to buy old music. The Essential series is like a field full of time capsules that, when opened, reveal much of the eras from which they come and offer fresh insights into music makers whose glory days are generally behind them.
Kris Kristofferson went a long way from sweeping floors in Nashville recording studios in the mid-to-late '60s. Possessing an unusual resume for a country singer/songwriter, Kristofferson had been Phi Beta Kappa in college, studied at Oxford University on a Rhodes scholarship, and was in the army teaching English at West Point when he first visited Nashville in 1965. Signed to a songwriting contract, he moved down to Tennessee and wrote songs while working various jobs to support himself and his family.
The first of his songs that most of us heard was "Me and Bobby McGee," a song off his 1970 debut album that was a posthumous #1 pop hit for Janis Joplin the following year. Several of his tunes became big country hits around the same time---"Help Me Make it Through the Night" by Sammi Smith, Ray Price's version of "For the Good Times" and the Johnny Cash cover of "Sunday Morning Coming Down" come immediately to mind.
But many of us discovered the songwriter himself, singing his songs of the hard living side of life in a deep, scruffy voice that sounded like he knew whereof he sang. Like Dylan, his was a voice that wasn't for everyone, but it sure did pack a lot of feeling into it. The first disc of this two-disc Essential set is just that, a potent package of country-folk songs that often approach the poetic---the masterful "The Silver Tongued Devil and I," "The Pilgrim: Chapter 33" ("he's a poet, he's picker…"), the "Subterranean Homesick Blues" rap of "The Best of All Possible Worlds" and the pathos of "Darby's Castle."
Disc 2 is less impressive. Kristofferson's songwriting took a back seat to his burgeoning movie stardom (Pat Garrett and Billy the Kid, Alice Doesn't Live Here Anymore, A Star is Born) and pharmacological excesses in the '70s, but there's still the gospel classic "Why Me," the country smash "Highwayman" and the hippie-folkie philosophy of "Jesus Was a Capricorn."
For the uninitiated, this set provides a wide ranging introduction to one of the best country singer/songwriters of the early '70s. For the rest of us, Essential delivers a generous serving of Kristofferson's best work to replace those scratchy records lying unplayed and warped up in the attic.
copyright © 2004 Port Folio Weekly. Used by Permission.
---