---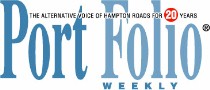 PortFolio Weekly
September 16, 2003
Who Put the "H" in Rhondel?
by Jim Newsom
What is a "rhondel"?
"We were told years ago that a rondel, without the 'h', is a repeated line in poetry," says Bill Deal with a smile. "Because we were only playing about a half dozen songs and repeating them…"
In these parts, though, more people know "Rhondel" than "rondel" because Bill Deal and the Rhondels have been serving up a unique brand of rhythmic blue-eyed soul music for over forty years. Next Tuesday night, September 23rd, Deal and his band will be inducted into Norfolk's Legends of Music Walk of Fame with a ceremony and concert in the Roper Performing Arts Center.
The genesis of the group came about when Wilson High School student William Deal met Princess Anne High School student Ammon Tharp in 1959.
"He was with a band called the Blazers," Tharp recalled when the three of us got together recently. "He was at the old Peppermint, which was called the Casino at the time. And I was playing at Seaside Park with a group called the Saints, who were older guys. We met each other at the Community House on 17th and Arctic Avenue. A local group of high school kids would go there every Saturday night to see this band called the Rhythm Rockers. I would go with my friends and William used to get up and sing with them, singing rhythm and blues.
"Then we got called up for a gig together at the Admiralty Hotel for an N. C. State party. We were younger, about 15 or 16, and the other guys were older. On the breaks, we started talking about music. Here's these two white guys, one from Portsmouth, one from Princess Anne County, we liked soul music, we weren't into the rock music of the time. We listened to WRAP, Jack Holmes."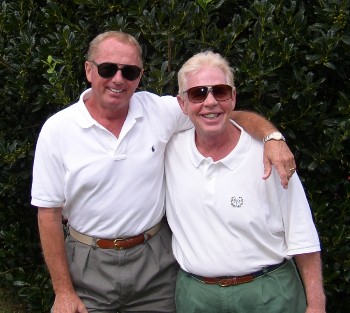 The two became fast friends and musical partners, forming the first edition of the Rhondels in the summer of 1960 with Deal on organ and bass pedals, Tharp on the drums, and hornmen Mike Ash, Mike Stillman and Bryan Bennett.
Deal, whose guitar-playing father owned Slim's Restaurant near the shipyard in Portsmouth, had begun playing piano at the age of four. Tharp, whose dad was head of utilities at the Norfolk Naval Base, had started playing drums in the first grade while living in East Ocean View. Deal graduated from Wilson in 1961, Tharp from Princess Anne in '62.
While Deal continued his education at Old Dominon, the two played music all around the area. During the winter, they mostly played on weekends, but summers presented a much larger opportunity.
"In the summer we'd come down here [to Virginia Beach] and work 6 or 7 nights a week," Tharp remembers. "At the Top Hat, we'd play from 10:00 in the morning until 2:00 in the afternoon, then from 2:30 to 6:30, then from 8:00 to 12:00. We'd play three four-hour jobs in a day. Groups would come in like Fats Domino or Roy Orbison and we'd get to play with them.
"We made $12.00 a job, so we'd do those jobs for $36.00 back in those days, the early '60s. It was a lot of money."
The band expanded as the '60s progressed, and Bill Deal and the Rhondels became a popular act throughout Virginia and the Carolinas playing a blend of early '60s R&B mixed with the Motown, Memphis and southern soul of the middle part of the decade, a brew that was called "beach music" along the Carolina coastline. That term hadn't made it to Virginia, though, and when Carolina crowds asked for "beach music," they weren't sure how to respond.
"We kept getting requests for 'May I' at the Casino down in Nags Head," Deal says. "We didn't know what that music was. So we learned 'May I,' probably on a break or something, wrote down the words and worked out the parts, and did this 'oompah-oompah' thing to make it fun. And then, believe it or not, in the middle of the song we were looking at each other saying 'this is happenin', this is pretty cool.' We probably recorded it two or three days later when we came back to Norfolk, jumped right into the studio.
"We couldn't believe that we had to do this song. I wouldn't say we made fun of it; we adapted that sound to it so it would work for us. And it worked better than we thought it would."
Indeed it did. They pressed a couple hundred copies of their "oompah-oompah, shoop-dooby-dooby" version of Maurice Williams and the Zodiacs' little known tune, sold out and pressed a couple hundred more, carrying it themselves from record store to record store and radio station to radio station. Then one day, WGH disc jockey Gene Loving called to say that a New York producer was interested in their record.
"I didn't know what to do," Deal laughs, "Gene didn't know what to do. So we just said, 'Let's do it!' We were getting orders for 10,000 copies and could not handle the volume of calls and the interest. So we signed an agreement to let them [Heritage Records, a division of MGM] come out with 'May I.'"
The record rose to #39 on the Billboard national chart early in 1969. It was followed by two more hits, each rising higher than its predecessor, with "I've Been Hurt" hitting #35 in the spring and "What Kind of Fool Do You Think I Am" rising to #23 later in the year. Even more amazing was the band's international success, especially with "I've Been Hurt," which was huge in Latin America, even being named "song of the year" in Mexico.

Deal remembers the excitement of those days: "Our first trip to New York City, we could hear 'May I' all over the city. Our record was playing out of the speakers in the stores."

"We played Madison Square Garden with Deep Purple, Neil Young & Crazy Horse, and Crazy Elephant," Tharp adds. "And we were the headliners."

But after a year in the high gears of the star-making machinery, Bill Deal and Ammon Tharp made a crucial decision.

"Traveling was just a nightmare," Deal says. "You travel from town to town, different room every night. When you have children back home, that's something that's important. We decided to pull off the road and stay home. It worked out well."

Tharp puts it this way: "We were like being stars, but after a while we just figured out we could do better going back home, dressing the way we dressed and playing our stuff."

Doing their own thing in their own way has worked out very well for Bill Deal and Ammon Tharp, both together and apart. Next Tuesday, they're bringing together an all-star reunion of the musicians who recorded with them as Rhondels in the 1960s.

"We're looking for J. T. Anderson, Kenny Dawson, Bobby Fisher and Jeff Pollard," Ammon says. But they've rounded up most of the guys, like George Bell, Ron Hallman, Don Quisenberry and others. And they'll be playing their three biggest hits at the Roper, songs that are part of the canon of Beach Music, a genre whose popularity has grown far beyond its original Carolina home base, whose mid-Atlantic capital is Virginia Beach, the home of Bill Deal and the Rhondels.

copyright © 2003 Port Folio Weekly. Used by Permission.
---