---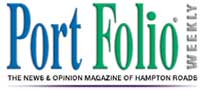 February 25, 2003
A True Original
by Jim Newsom
The best music is often found in small, out of the way places far from the stadiums and amphitheaters. Clubs, libraries, churches and homes host many of the best players, those whose talent runs deeper than the flavor-of-the-month "stars" of contemporary pop, country and smooth jazz radio.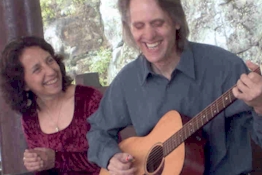 On Friday night, Norfolk's Blues Alley hosts a performance by the acoustic duo of Barbara Martin and Mac Walter. Ms. Martin is a wonderfully talented, rootsy singer/songwriter whose personal style blends folk, blues and jazz. Her partner, guitarist Mac Walter, is a well-traveled master of the fretboard, fluent in many musical styles. Together, the twosome salutes the great blues and jazz singers of the 1920s and '30s, reviving their music, telling their stories, and mixing in songs from Martin's wide-ranging bag of original material.
Originally from Iowa, Barbara Martin moved to Virginia's Shenandoah Valley in the mid-'80s, becoming ensconced in the Staunton/Charlottesville/ D.C. music scene while exploring American blues and jazz of the early twentieth century. She released her first album, A Matter of Time, in 1993 on her own Rare Bird Music record label. It is an engaging and eclectic collection of mostly original compositions with a distinctly folkish flavor. She also tipped her hat to one of her all-time inspirations with a cover of Sippie Wallace's blues, "You Got to Know How." Her originals offer well-crafted glimpses of real life, from the abused wife in "Mary" ("there's more to love than the back of a hand") to the single woman's search for Mister Right on "Dissatisfied." The latter song closes with this observation: "Sometimes I'm ready to settle for less/But Mama always told me hold out for the best/But look what she did when the choice was hers/You know Dad's not exactly Mr. Universe."
Her second album, 1996's Between Black and White, was also full of fine, intelligent songwriting, both humorous and soul-searching, but the production attempted to market Martin to a broader audience by borrowing from the formula being used at that time by Mary Chapin Carpenter. It was an excellent album in that genre, with more electric guitars and pop-country luster than is typical of the rest of Ms. Martin's catalog.
The title of A Different View from 1999 announced a change of direction from its predecessors. The opening clarinet lick points the album overtly towards the past, and the blues classic "Do Your Duty" leads into a batch of acoustic jazz and blues tunes that showcase her earthy vocal prowess and Walter's guitar wizardry. On this CD, Martin's eight originals mix so smoothly with the three non-originals that it's hard to tell which is which. With A Different View, Barbara Martin found her niche without worrying about the music marketplace, and in the process created a lasting listening pleasure.
Martin has also released a children's recording, , which is the name of one of the educational programs she offers to students in schools throughout the state. Covering American music from 1750 to 1950, this CD shows its intended youthful audience the links between the music of the past and the rock, country and pop music of today. It includes Martin's takes on well-known songs like "She'll Be Comin' Round the Mountain," "It Don't Mean a Thing (If it Ain't Got That Swing)" and "Hound Dog."

Over the past ten years, Ms. Martin has built a reputation throughout the mid-Atlantic seaboard as an entertainer and music educator. She's been to our area several times, performing, teaching and putting on workshops in schools and libraries. You may not find her headlining at the local amphitheaters or blasting out of commercial radio, but you will find her music rich, entertaining and satisfying.

copyright © 2003 Port Folio Weekly. Used by Permission.
---