---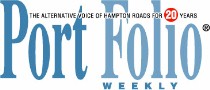 PortFolio Weekly
January 20, 2004
A Dozen Delightful Discs From 2003
by Jim Newsom
After a year of lists during Port Folio Weekly's 20th anniversary year, I can't believe I'm doing another one. But how can I resist the urge to share and recap the best new music I was privileged enough to hear last year?
So here are a dozen discs worth hearing, worth owning, filled with music I can recommend without reservation. The only criteria in my selection process were that the CD be released during 2003 and that it not be a reissue of earlier material.
I reviewed nine of the twelve included here in the pages of PFW last year, and the quotes come from those reviews. The three that weren't reviewed came to my attention late in the year, but have been in my CD player quite a bit over the last month or two. All but one of the choices are jazz, reflecting my personal listening habits these days.
If you haven't saved all your old Port Folios, you can find the complete reviews referenced herein by clicking the "writings" link on my website at www.jimnewsom.com.
IAN ANDERSON
Rupi's Dance
A folkish, mostly acoustic outing from the leader of Jethro Tull: "To this longtime listener, Rupi's Dance is probably the best recording to come from the Anderson/Tull nexus in 25 years…You'll recognize some of the old tricks, particularly in the rhythmic pulse and song structures, but you'll also find a fresh musicality still unique in popular music." (reviewed December 16th)
MICHAEL BRECKER QUINDECTET
Wide Angles
The top tenor saxophonist of his generation extends his musical curriculum vitae with this large ensemble recording orchestrated by Gil Goldstein. The "quindectet" (a made-up word meaning 15-person band) includes a 6-piece horn section, string quartet and jazz rhythm section. This wide ranging assemblage of instrumentalists gives Goldstein a broad palette from which to paint the canvas decorating Brecker's blazing, multifaceted saxophonics. Alternately elegant and funky, Wide Angles offers new revelations with each listening.
RAVI COLTRANE
Mad 6
Every person who caught John Coltrane's son in his August Jazz Norfolk concert came away a believer. "And with his latest release, Mad 6, he has staked a claim for his own place in the pantheon of jazz…This disc, recorded last spring, shows him to be looking forward while building on his musical heritage." (reviewed June 10th)
MARC COPLAND/GREG OSBY
Round and Round
Pianist Marc Copland laid this CD on me when he was here to perform at Jazz on Granby in November. His live performance that evening was one of the most musical concerts I've heard in years, and as a result he rocketed into the upper level of my personal poll of jazz pianists. This album of duets with alto saxophonist Greg Osby is absolutely beautiful, spacious and open, with no wasted notes. The uncluttered textures remind me of the 20th century composer Olivier Messiaen, and there are hints of Keith Jarrett's solo piano stylings and Bill Evans' rich voicings in Copland's keyboard work. His original "Whatever the Moon," a mesmerizing highlight of the concert here, is the centerpiece of this disc. Through sheer force of musicianship, this twosome holds your attention for nearly an hour with no need for a rhythm section.
KURT ELLING
Man in the Air
"Elling mostly takes existing jazz instrumentals and adds his own lyrics in the manner of Jon Hendricks. Sometimes the words hit your heart, sometimes your brain, sometimes they simply leave you in the dust. But always, Elling keeps you riveted, listening intently…This is music for the ages, a disc you won't easily be able to file away and forget." (reviewed November 4th)
STEFON HARRIS
The Grand Unification Theory
"This is some of the most appealing music you're likely to hear this year…Harris' arrangements are thick and rich, blending flute, trombones, trumpet, sax and clarinet in ways reminiscent of Oliver Nelson, Gil Evans and Herbie Hancock's late-'60s sextets." (reviewed June 10th)
ABDULLAH IBRAHIM
African Magic
My favorite piano trio recording of the year: "His music is not showy, and his piano playing relies on mood and texture rather than technical pyrotechnics to create a trance-like effect…African Magic is transcendent, a recording that lives up to its name." (reviewed June 10th)
ROBERT JOSPE
Time to Play
"Leading a hot septet made up mostly of fellow University of Virginia music faculty, Jospe has created a masterpiece of percolating polyrhythms, blending the classic trumpet/tenor sax frontline of the hard bop era with contemporary world beats and Latin percussion. It's a hip musical feast, guaranteed to set your feet and fanny in motion." (reviewed April 1st)
FLORA PURIM
Speak No Evil
A comeback of sorts for the Brazilian vocalist that "put her right back at the top of the jazz vocal world, where she had a permanent home in the 1970s...Although Flora Purim's voice no longer soars quite as high as it did on the RTF albums 30 years ago, time has been kind to her instrument and she's still got the goods. This is a great album." (reviewed April 8th)
MIROSLAV VITOUS
Universal Syncopations
A founding member of Weather Report who played with Herbie Mann and Chick Corea as the '60s became the '70s, Czechoslovakian bassist Vitous has long been a favorite of musicians. This recording, his first in ten years, reunites him with Corea, guitarist John McLaughlin, drummer Jack DeJohnnette and Norwegian saxophonist Jan Garbarek for a setlist of original material that is shimmering in its understated elegance. Though all the players are big name virtuosi in their own right, each sublimates his ego for the good of the whole, with the resultant group improvisation creating a unique musical statement that stands out in the crowded field of small group jazz.
MARK WINKLER
Sings Bobby Troup
"Rather than add some 21st century gimmicks, he sticks with the laidback nonchalance and straightahead instrumentation of a time gone by, and in so doing, captures the spirit and feel of that time…he glides down 'Route 66' in a sleek, unadorned convertible made of acoustic bass & brushes, conveying pure, worry-free coolness." (reviewed June 10th)
YELLOWJACKETS
Time Squared
These guys keep putting out music that is remarkable in its consistent high quality. This album ranks in the top tier of their extensive catalog, with "a wealth of intelligent musical ideas, making its statement subtly rather than bombastically. It's like a tone poem in its textural richness, flowing gently from song to song, weaving an intoxicating spell." (reviewed June 10th)
copyright © 2004 Port Folio Weekly. Used by Permission.
---