---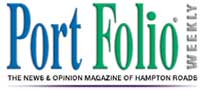 April 30, 2002
Keeping it Simple
by Jim Newsom
"Simple." Not a word most jazz lovers would use to describe legendary pianist McCoy Tyner's style. It is dense, thick, multi-layered, full of unusual chord voicings and intricate single note runs. In short, it is quite complex. Yet, "keep it simple" is a phrase Tyner used several times to describe his way of making music and living his life during a recent telephone interview.
McCoy Tyner, who performs at Christopher Newport University Friday night, May 3rd, as part of the Ella Fitzgerald Jazz Festival and Virginia Arts Festival, is truly one of the giants of jazz. At the epicenter of the jazz world since his debut with the John Coltrane Quartet in 1960, he has continued to be one of the most gifted, most influential masters of the keyboard for more than four decades.
In our conversation, I found him to be kind, generous, humble, and full of good humor. The first thing he said when I introduced myself was, "I have some Newsoms in my family. My mother and father were from North Carolina, and Newsom is one of the names from down there." We decided we must be distant relatives, long lost "cousins."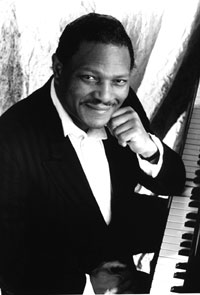 Music has been a major component of McCoy Tyner's life since his youth. Born in Philadelphia in 1938, he began playing piano at age thirteen, and had his first professional gig at fifteen. He forged his style in the fertile music scene of his hometown during the 1950s. His mother, who owned a beauty parlor, provided support on the homefront for his ambitions.
He describes the scene: "When I was coming along, there were so many great bands. You could do your apprenticeship and then walk away with some information. I learned from being out there, playing.
"We had a lot of jam sessions. We had them at my mother's shop and at Mickey Roker's place in south Philly. I'd sit down and play for about twenty minutes---there'd be fifteen tenor players lined up. I'd get up and another piano player would sit down. It was a continuous jam session.
"That's how you do it, that's how you develop your style. It's a matter of trying things and working it out."
In 1955, he met another local musician, tenor saxophonist John Coltrane. They played together at a local club called the Red Rooster, and developed a relationship that would lead to an historic union five years later. Twelve years older than Tyner, Coltrane built a name for himself in the late '50s as part of Miles Davis' band, and through his own recordings like Blue Train and Giant Steps.
When he left Miles in 1960 to form his own band, Coltrane invited his young Philly friend to join him. Tyner was playing with the Art Farmer-Benny Golson Jazztet, having made his recording debut that year on Meet the Jazztet, an album that included the original "Killer Joe." However, when Coltrane called, Tyner accepted, and the foundation was laid for one of the most important groups in jazz history.
Talking about his five-year stint with bassist Jimmy Garrison and drummer Elvin Jones in the Coltrane quartet, Tyner said, "There were no egos. It was about the music. We were truly a group in the strictest sense of the word. He chose the right people---he tried several, narrowed it down. We had a sound and were able to develop it…I'm proud of what we did."
It's hard to imagine the John Coltrane Quartet without McCoy Tyner. His thick chords and percussive pianism complemented the saxophonist's ever evolving, continually stretching style. It was a time Tyner remembers with great fondness, a period that still effects his music.
"Coltrane was so intense, always searching. When we'd be on a break, he'd be back in the kitchen practicing, working something out. He had somewhere in his head that he had to get to. He had to dig deep to find it."
He gives this example of Coltrane's endless quest to find that "somewhere:"
"We were on the road, I don't remember where. He was staying in a different hotel from the rest of us. I had to see him in the morning. When I went to his hotel room, he came to the door fully dressed. He still had a suit and tie on from the night before.
"He fell asleep, had his horn on the bed. He'd been practicing all night and fell asleep with his clothes on!"
When Coltrane's pursuit became less melodic and more intensely atonal and freeform, Tyner decided to leave the group in 1965, as did drummer Jones. They were finding it hard to hear themselves in the increasing cacophony of their leader's explorations.
Having made several solid albums under his own name while with Coltrane, McCoy Tyner went on to produce a diverse body of recorded work. His Blue Note sessions in the late '60s were critical successes, but didn't catch on right away with the public. He worked some with other artists, including Ike and Tina Turner, but when he began recording for the Milestone label in 1972, his fortunes turned.
"Milestone was part of Fantasy, owned by Saul Zaentz, a movie producer and artist himself. They didn't interfere with what I wanted to do. They never turned my ideas down. I had a chance to try different things. That was a great period."
The last thirty years have found McCoy Tyner at the top of the jazz world. I asked him if he had any favorite albums.
"Oh man, that's hard," he laughed. "They're like your babies, born at different times. It's where you are at that particular moment. I like to do different things. Each album is different from the last."
Still, he named Fly With the Wind and The Real McCoy as personal favorites. And "there's one with Lee Morgan from the sixties (Tender Moments)."
He also mentioned the 1996 CD he did of Burt Bacharach's music, What the World Needs Now: the Music of Burt Bacharach.
"Burt asked me, 'What are you gonna do with my music?' He couldn't see how my style would work with his songs. But when he heard it, he really liked it."
I asked him how he keeps it up after all this time.
"I don't know. I just like playing at that level. I try to give the audience what they expect and treat them with respect.
"You have to take care of yourself. I just keep it simple."
These days, McCoy Tyner is on the go most of the time. "Yeh, I'm all over the place, but I do take breaks. I took a month off earlier this year, actually got to sleep in my own bed!"
He has been chosen for numerous honors. He's won four Grammy awards---Best Jazz Instrumental Performance twice, in 1996 for Infinity and in 1989 for Blues For Coltrane; Best Large Jazz Ensemble two times, in 1993 for The Turning Point and in 1995 for Journey. He joined Percy Heath and Chesapeake's Frank Foster in January of this year as a recipient of the National Endowment for the Arts' American Jazz Master Fellowship, an award that recognizes "significant contributions to jazz, artistic excellence and impact on the music field."
I asked what was next on his musical horizon.
"That's a good question," he replied. "You're playing the lottery now. I'm not signed to any label. I take it one project at a time. I don't want to do the same thing over and over.
"I've got some ideas, though. I hope to do another big band project soon. I've always liked the big band recordings; it's been a while. I love to write for big bands. I'm not like Frank (Foster) though. I'm not on that level."
At CNU, McCoy Tyner will be performing in a trio format with his long-time rhythm section, keeping it "simple." Bassist Avery Sharpe has been with him for twenty years, and Aaron Scott has manned the drum throne since 1989. They work without a setlist, making each performance fresh and unique.
Tyner says the three share a "telepathic communication. I'll start playing something and they know what I'm going in to. It's just like, 'here we go!'"
Friday night's audience is in for a great ride, plain and "simple," wherever the McCoy Tyner Trio decides to go.
copyright © 2002 Port Folio Weekly. Used by Permission.
---