---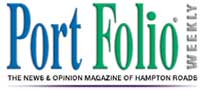 October 15, 2002
The First Lady of Song Shines On
by Jim Newsom
Peggy Lee was once asked who was the greatest jazz singer.
She replied, "You mean, after Ella?"
Ella Fitzgerald was truly a singer in a class by herself. Her multi-octave range, her crisp enunciation, her beautiful vocal timbre, her innate sense of swing, her heart-felt way with a ballad and the sheer joy she brought to every performance were unequaled by any other pop or jazz singer of the twentieth century.
We Hampton Roadsters are proud to call Ella one of our own. She was born in Newport News in 1917, but she moved to Yonkers, New York, with her mother and stepfather when she was barely a toddler. She, in fact, referred to Yonkers as her hometown.
Nonetheless, she acknowledged her birthplace whenever she came to the area to perform. And on September 25th, she was among the first class of honorees enshrined in the Legends of Music Walk of Fame on Granby Street. Her star is embedded on the sidewalk in front of the Roper Performing Arts Center.
Ella Fitzgerald had a tough childhood. She never knew her father, and her relationship with her stepdad was not good. Her mother died when Ella was fifteen, and after being shuffled between aunt and reformatory, she actually spent a year living on the streets of Harlem.
Still, she harbored big dreams.
"I'm gonna make something of myself some day," she would tell her friends.
They called her "Snake Hips," and she recalled in a television interview with conductor Andre Previn that she was the "best dancer in Yonkers." A dancer is what she wanted to be.
But when she first showed up to perform on amateur night at the Apollo Theatre on November 21, 1934, she found herself intimidated by a dancing duo, the Edwards Sisters, who closed the professional part of the show. So she decided to sing instead, a song called "Judy," and won the amateur contest that night. She was seventeen.
Saxophonist Benny Carter was in the Apollo audience, and lobbied bandleader Chick Webb to give her a try. The rest, as they say, is history. Webb brought her into the band a few months after her amateur night victory, and in 1938, she and the band produced a million-selling hit with an adaptation of the children's rhyme, "A-Tisket, A-Tasket." The record was number one for ten weeks on the Hit Parade.
She was dubbed "The First Lady of Swing," and had the beginnings of a great run. Webb's sudden death in June, 1939, interrupted the streak, though, and the early 1940s were a slow period in her career.
Her fortunes turned around when she began hanging with the nascent be-boppers in the mid- '40s. She recalled that Dizzy Gillespie said to her, "Let's riff!" In order to improvise with the bop instrumentalists, she began scat singing, wordless vocal approximations of trumpets, saxophones and trombones.
Her recording of "How High the Moon" in 1947 showed that she had assimilated the vocabulary of be-bop, and she was cooking once again. Her nickname became more inclusive, "The First Lady of Song."
Her greatest work was still to come, however. That would begin when record impresario Norman Granz became her manager, and moved her from Decca records to his own Verve label. Granz felt that Ms. Fitzgerald, who had already sold millions of records, still hadn't gotten the respect and high paying engagements she deserved. He felt that hers was the perfect voice to capture and document the songs of the great American songwriters of the first half of the twentieth century. Thus was born the lasting legacy of Ella Fitzgerald's Songbook albums.
The first in the series was Ella Fitzgerald Sings the Cole Porter Songbook, a double album that reached number fifteen on the Billboard album chart upon its release in 1956. Over the next four years, she recorded Songbook albums of Rodgers and Hart, Duke Ellington, Irving Berlin, George and Ira Gershwin, and Harold Arlen. She returned to the format in '63 and '64 to complete the collection with Jerome Kern and Johnny Mercer. Eight of the nation's greatest composers honored in multi-disc sets by the world's greatest singer.
Along the way, she also recorded three timeless albums with Louis Armstrong, the excellent Ella in Berlin documenting her live show and featuring a hilariously improvised "Mack the Knife," and a joyful holiday album called A Swingin' Christmas. She continued her string of classics in 1965 with Ella at Duke's Place. Plus, she was all over television in the '50s and '60s heyday of variety shows.
Even as age and road-weariness began to take their toll, Ella continued to perform. She put on a memorable show at Norfolk's Center Theatre (now the Harrison Opera House) in the mid-'80s, and performed at the Hampton Jazz Festival late in her career. Quintuple bypass surgery in the fall of 1986 didn't stop her either.
Unfortunately, she discovered she had been a diabetic but hadn't known it, and her last few years were difficult. Both legs were amputated in '93, and she could no longer perform. Ella Fitzgerald passed away on June 15, 1996.
But her music will literally never die. She is well documented on CD, and PBS produced a superb documentary in 1999 as part of its American Masters series, Something to Live For, that is available on DVD and is bound to be rebroadcast every so often at pledge time.
The Complete Ella Fitzgerald Songbooks is available as a 16-disc box set, and the individual Songbook albums are all available separately. There's even a one-disc sampler, The Best of the Songbooks, for those wishing to put their toe in before taking the plunge.
There's also a new star in the Granby Street sidewalk, reminding the world that "The First Lady of Song" began life right here in Hampton Roads.
copyright © 2002 Jim Newsom. All Rights Reserved.
---